Apple on Monday launched its annual Holiday Gift Guide, pointing users to products and accessories from third-party companies. The gift guide is split up into 11 categories including Headphones, Speakers, Great Mac games, Designer bags, iPhone accessories, For the home office, Charging on the go, Gear for photographers, Software for work and play, Stylish cases, and Preschool games.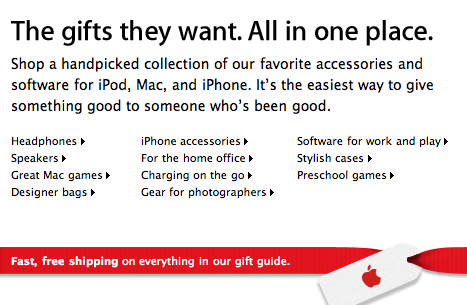 The Apple Store homepage also shows the company is offering free shipping on orders over $50.
In addition, customers have reported that Apple is now shipping the quad-core 27-inch iMac. Apple introduced the new iMacs in late October, along with the Magic Mouse and new MacBooks.
With the new product releases, Phil Schiller, Apple's senior vice president of Worldwide Product Marketing, said the company's holiday product line-up was set, meaning no more major products would be released this year.
You can also read our review of the iMac and Magic Mouse.