Apple on Tuesday introduced the Magic Mouse, a new $69 Bluetooth mouse that Apple bills "the world's first multi-touch mouse." It will be available in late October and comes bundled with Apple's new iMacs.
The Magic Mouse eschews mechanical buttons, a scroll wheel and the scroll ball found on Apple's Mighty Mouse all together, instead introducing a multi-touch surface that works across the entire top of the device.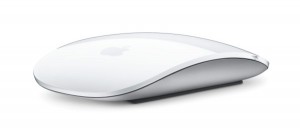 This enables users to configure the mouse as a single or multi-button mouse, using finger gestures to scroll through documents, pan across images or move forward and backward through Web pages and other files. Such "multi-touch" gestures have become a defining characteristic of Apple's laptop trackpads, and are heavily leveraged in the iPhone and iPod touch interfaces.
The Magic Mouse can operate wirelessly up to 10 feet away from a host computer. It runs on two AA batteries (included) and features power management.
The Magic Mouse requires Mac OS X 10.5.8 or later.