Apple on Tuesday introduced new iMac models featuring 21.5-inch and 27-inch displays, starting at $1,199. They offer optional quad-core processors and the new Magic Mouse, a the world's first multi-touch mouse.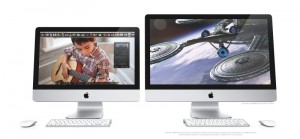 The new iMac line begins with a 3.06GHz Intel Core 2 Duo-equipped model, equipped with a 21.5-inch 1920 x 1080 LED-backlit display. Other features include 4GB of 1066MHz DDR3 SDRAM expandable to 16GB, Nvidia 9400M graphics, 500GB SATA hard drive operating at 7200RPM and 8x "SuperDrive."
Also standard: Mini DisplayPort, 802.11n, Bluetooth 2.1+EDR, iSight video camera, Gigabit Ethernet port, four USB 2.0 ports, one FireWire 800 port and SD card slot, as well as built-in microphone and stereo speakers.
Apple now includes its Wireless Apple Keyboard standard, along with the new Magic Mouse. A $1,499 nets you discrete graphics in the form of ATI's Radeon HD 4670, with 256MB dedicated GDDR3 VRAM, and 1TB/7200RPM hard drive.
Two new 27-inch LED-backlit models round out Apple's iMac offerings, each with 2560 x 1440 resolution. The $1,699 27-inch model comes with the same 3.06GHz Intel Core 2 Duo processor, storage and memory options. The $1,999 27-inch model comes with a 2.66GHz Intel Core i5 quad-core processor equipped with 8MB of L3 cache — the first quad-core processor to be offered on the iMac line.