Apple on Tuesday introduced a new MacBook with LED-backlit display, multi touch trackpad and 7-hour battery, starting at $999.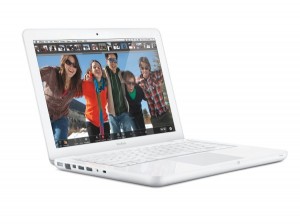 The new polycarbonate-clad MacBook model features the same display technology as that found in MacBook Pro models, 13.3-inch glossy displays that support 1280 x 800 pixel resolution. A 2.26GHz Intel Core 2 Duo processor equipped with 3MB L2 cache is under the hood, working on a 1066MHz front-side bus and 2GB standard DDR3 SDRAM, expandable to 4GB.
The motherboard features Nvidia GeForce 9400M integrated graphics, and storage is provided by a 250GB SATA hard drive running at 5400RPM. An 8x "SuperDrive" burns DVD-Rs and other media, and you can output vide using the integrated Mini DisplayPort. Networking comes in the form of a Gigabit Ethernet port and 802.11n Wi-Fi networking and Bluetooth 2.1+EDR.
There's also a built-in iSight, two USB 2.0 ports, one audio line in/out port, and a built-in 60WHr lithium polymer battery.