Netbooks have taken off in the last year, leading some industry watchers to wonder if Apple was missing out on an opportunity by not having one. But Apple stuck to its guns and continued to put out high-quality computers, instead of moving into the cheaper market.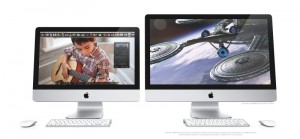 The strategy clearly paid off. In reporting its quarterly earnings on Monday, Apple said it sold 3.05 million Macs during the fourth quarter, representing a 17 percent unit increase over the year-ago quarter. That is the most Macs the company has ever sold in a single quarter. Ever.
I spent some time speaking with Phil Schiller, Apple's senior vice president of Worldwide Product Marketing, on Tuesday about the new iMac, Mac mini and MacBook releases and how that fits into the company's strategy.
"The iMac and MacBook are brand new designs — they are the most advanced designs," said Schiller. "You design for the future, not the past. That's what customers will see in a Mac, a design for the future. A lot of the cheaper computers are designed around the past."
Designing for the future has as much to do with the technologies used in the computers as it does with the physical design and finishing touches. Apple typically uses high-quality displays, advanced I/O and other options that make the computers useful for years.
Schiller says that price is certainly a determining factor when purchasing a computer, but it's only one of the factors. People look at screen size, battery life, customer support, and one of the most overlooked aspects of purchasing a new computer, software.
In talking to switchers, Schiller said that Apple learned that people really do want to manage photos, learn how to compose music and make movies. As it happens, Apple offers iLife for free on every computer, allowing users to do all that and more.
Some users are coming from the iPod and iPhone, commenting on how easy iTunes is to use. It is the so-called "halo effect" that is leading to some of the new Mac purchases.
Whatever the reason, people are buying Macs like never before. Apple's strategy of making quality products, instead of fighting for the low-end market is working for them and there is no sign of that changing.