Apple on Tuesday refreshed its Mac mini line of desktop computers, introducing a new model equipped with Snow Leopard Server for an astonishingly low price of $999.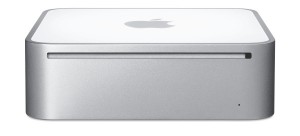 Still priced starting at $599, the Mac mini comes equipped with a 2.26GHz Intel Core 2 Duo processor, 1066MHz frontside bus and 2GB of RAM, a 160GB hard disk drive and 8x "SuperDrive." Nvidia GeForce 9400M graphics come standard. The new $799 model comes with a 2.53GHz processor and 320GB hard disk drive.
The Mac mini is also now available pre-configured from the factory with Mac OS X Server Snow Leopard – a first for Apple. That system, equipped with dual 500GB hard drives and no built-in optical drive, also includes a 2.53GHz Intel Core 2 Duo microprocessor and 4GB RAM. It cost $999.
The Mac mini, Apple's most inexpensive computer, comes equipped standard with a FireWire 800 port, five USB 2.0 ports, mini-DVI output, audio in and out, Gigabit Ethernet, 802.11N Wi-Fi, and Bluetooth 2.1+EDR.