After Verizon's iPhone 4 press conference was done, Verizon and Apple invited the assembled press and analysts to actually get their hands on the CDMA iPhone that Verizon and Apple will soon be selling.
[ad#Google Adsense 300×250 in story]This isn't a typical "hands on" review; hopefully that will come later once the Verizon iPhone is actually released. Instead, this article represents this reporter's first impressions after having a chance to handle the Verizon iPhone in a pretty carefully controlled environment. So with that, caveat lector – let the reader beware.
Casual observers won't notice a big difference between AT&T and Verizon iPhones. The most notable difference involves changes to the external antennas on the phone – the seams where the metal bands that act as the phone's antenna have changed position, from the bottom to the top.
Apple COO Tim Cook explained in a question and answer session after the formal presentation that the antenna design was "optimized" for Verizon's network.
When the iPhone 4 was first introduced to AT&T customers last year, users noticed a "grip of death" effect when one of those seams was covered or touched with a bare finger or hand which caused the iPhone's signal meter to drop. Apple later offered a software update to the phone which changed the algorithm used to determine signal strength.
While it's pure speculation, one is left to wonder if moving those seams on the Verizon iPhone to a much higher location – a spot users are much less likely to grip – might get rid of such "grip of death" issues.
The Verizon iPhone also lacks a SIM card tray, as the AT&T iPhone 4 has. CDMA phones don't need them, so the right side of the iPhone 4 is smooth except for the antenna seam.
Otherwise, in outward appearances, the Verizon iPhone 4 is very, very similar to its AT&T counterpart, though not altogether identical. Dan Frakes at Macworld suggests that the antenna change may have moved buttons enough that iPhone 4 cases may not fit.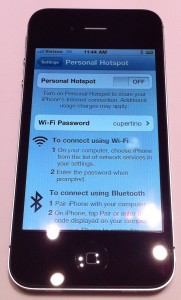 The iPhone 4s on display at the Verizon event were loaded up with a number of third party applications and games, but an Apple representative confirmed that Verizon iPhones will ship with the same default apps as AT&T iPhones. The only significant user interface difference is the present of a new setting: Personal Hotspot.
Personal Hotspot will enable Verizon iPhone users to turn their iPhone 4 into a mobile hotspot, with support for up to five users. The hotspot can be secured using a password, and it's accessible via Wi-Fi, Bluetooth and tethered to a computer using USB.
One important piece of the puzzle that remains unrevealed at this time is what Verizon will charge for the privilege of using the iPhone 4 on their network – they conspicuously left that information unrevealed for now, and wouldn't comment about data plan prices when asked. Rumors suggest that an unlimited plan is in the works, but that would seem to run contrary to comments Verizon executives have made in the past.
Casual use of the device to surf the Web showed that it's reasonably fast and operates similarly, if not identically, to its GSM counterpart, with one important limitation. Because the Verizon iPhone supports Verizon's existing CDMA 3G network, it's incapable of making a call and accessing the Internet at the same time.
This is a capability that AT&T users – users of any GSM network, really – take for granted. And so far that's sticking in the craw of at least a few AT&T customers who aren't anxious to experience that issue. But for the more than 90 million Verizon customers (and users of other CDMA-based networks), it's par for course, which offers both Verizon and Apple a tremendous upgrade opportunity.
This will sound contradictory, but the Verizon iPhone is remarkable simply because it's not remarkable. It is, with a few tweaks and changes, pretty much the same device that AT&T customers have had since last summer.
So hi there, Verizon Wireless customers, it's nice to welcome you into the fold. And if you're an AT&T customer who's going to make the switch, you'll know what to expect – from the phone, anyway.