Microsoft held its annual financial analysts meeting on Thursday and while it must have been difficult to admit, Apple is getting the better of them.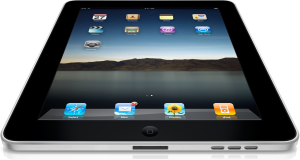 Microsoft has been helping its partners with Tablet PCs for almost a decade and they still haven't caught on. On the other hand, Apple's iPad caused an incredible amount of buzz in the industry months before it was even released.
In its fiscal third quarter, the first that it was available, Apple sold 3.27 million iPads, a fact that didn't go unnoticed at Microsoft.
"Apple has done an interesting job," said Microsoft CEO, Steve Ballmer. "They've sold more than I'd like them to sell. We think about that. So it's our job to say: we have got to make things happen. Just like we made things happen with netbooks, we have to do that with slates."
Apple took an interesting approach to the iPad, choosing to use its mobile operating system instead of a full version of Mac OS X. Microsoft, it appears, will be taking the exact opposite approach.
During the question period, Ballmer said Microsoft's tablet will be made with Intel processors and Windows 7, instead of its mobile Windows platform.
"We're coming," he said. "We're coming full guns. The operating system is called Windows."
While Ballmer said a tablet product to compete with Apple was "job one urgency," he wouldn't specify when they would be available. "They'll be shipping as soon as they are ready," Ballmer said.
And with that, Microsoft has assured it will not overtake Apple any time soon. Considering Apple is already working on the next iPad and planning the one after that, it's amazing that Microsoft isn't further along than what it is. Perhaps even more amazing that they would admit it publicly.