Last winter we presented 30 Must Have Games for the iPhone and iPod touch. That garnered your attention and plenty of comments, so we're happy to present its natural sequel, 15 Must Have Games for the iPad.
[ad#Google Adsense 300×250 in story]As with the first feature, let us underscore that we do not consider this to be a list of the best games for the iPad, or superlative games in any specific category. Instead, this is a collection of games vetted by The Loop as being fun to play and standouts for one reason or another. So please don't take umbrage if you don't see your favorite game listed. But by all means use the comment section below to share with other readers your thoughts on this list and any other iPad games you think are excellent.
Flight Control HD
Firemint wasted no time, hitting launch day for the iPad with a release of Flight Control HD, an updated version of its eminently popular iPhone air traffic control game. You rack up points by safely landing a variety of airplanes and helicopters onto their runways and landing pads. If any of them collide, the game is over. Firemint did more than just scale up the graphics to work on the iPad, however – Flight Control HD also adds new maps and a fun, quirky "3D" mode that provides the illusion of depth if you wear a pair of red/blue "anaglyph" glasses (not included, of course, but available in online, novelty shops and elsewhere).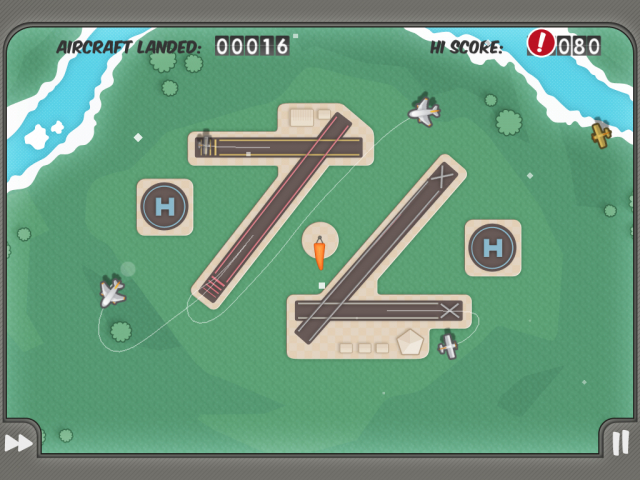 Warpgate HD
Freeverse had been working on its ambitious action/RPG game Warpgate initially as an iPhone game, but the iPad caused them to pause the iPhone version and rework it initially as an iPad release. Envisioned as a touch-based variant on Elite or as a latter-day Escape Velocity for you Mac game enthusiasts, Warpgate puts you in the pilot's chair of an interstellar spacecraft as you seek your fortune. You can deliver cargo, become a pirate, participate in missions that move a storyline along and more. The game's graphics are exquisite, its scale is immense – three dozen star systems, each chock-full of planets and space stations to interact with, tons of different starships to control and lots more.
Pool Pro Online 3
Despite the name this is the first installment of this long-running franchise to come to iOS. Namco's Pool Pro Online 3 enables you to play pool – eight-ball, nine-ball and snooker – against computer controlled players or other gamers playing from iPads, iPhones, other smartphones and computers, thanks to Namco's own proprietary multiplayer underpinnings. The game has a ton of unlockable content like new tables and background environments, new ball sets, new cue sticks and more. Guides help you line up your shot, and realistic physics let the balls carom around the table just like you'd expect.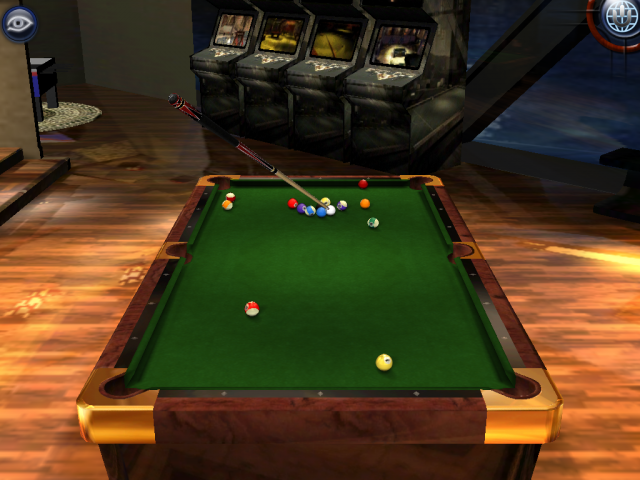 We Rule
Ngmoco sought to capture a bit of Zynga's Farmville mojo with We Rule, a kingdom-building game that heavily leverages Ngmoco's Plus+ Network social networking apparatus. You build a kingdom full of shops that your friends can place orders in, and you do the same – as you interact with each other, you gain experience and increase each others' coffers. As your levels increase, you're able to populate your kingdom with better and more elaborate services. We Rule on iPad is much easier to use than We Rule on the iPhone because of the increased screen size, and like its iPhone counterpart, it has the virtue of being free (unless you buy "mojo" which enables you to complete orders and construction instantly).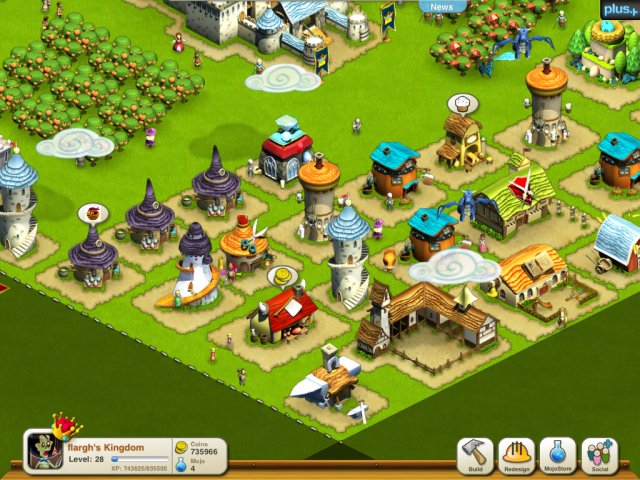 LED Football Player vs Player
Long-time readers know there's a special place in our heart for TouchGrove's LED Football, which recreates the ancient LED-based Mattel Football game from the 1970s on the iPhone. So it should be no surprise then, that TouchGrove's LED Football Player vs Player also made the list of iPad games. This game builds on the original Mattel Football-style gameplay concept by introducing a head-to-head game that two players can play on opposite sides of the iPad simultaneously. Obviously you have to be a retro-gamer (or in your 30s or 40s) to appreciate this fully, but it's a heck of a nostalgia trip and lots of fun head-to-head play to boot.
Geometry Wars Touch
We'll admit that we were skeptical when we first downloaded Geometry Wars Touch for the iPad. Could a game that originated on consoles, and one that seemed to be so fixed for dual thumbstick-based controllers, do well on the iPad? Color us impressed. Geometry Wars Touch is a fast and frantic arcade-style action game that features colorful and spectacular vector-style graphics. You move and fire in different directions by placing your thumbs at the bottom of the screen – "virtual" sticks are created wherever you place your fingers. It's a clever setup that works well, and several different game modes, online leaderboards, and a new gameplay mode called "Titans" will keep you busy for quite some time.
Plants vs Zombies HD
Popcap Games' incomparable Plants vs. Zombies has already had a hugely successful run on the Mac, PC and iPhone, so it only makes sense to bring the game to the iPad as well. And the iPad version doesn't disappoint – it's the same casual tower defense game we've all loved from the start, in which you protect your house (and your brains) from a zombie onrush by planting decidedly hostile vegetation in your yard. But truth be told, if you already have the other versions of PvZ, this isn't a must-have – Plants vs. Zombies HD isn't substantially different than its predecessors. It does make a fine iPad game, however, so it deserves your attention.
Need for Speed Shift
While there are more realistic racing games for the iPad, such as Firemint's Real Racing HD, We're more fond of EA's Need for Speed Shift, simply because it's so much fun to play. You can get behind the wheel of a variety of real-world cars – everything from your basic ecoracer Volkswagen Golf GTI to superexotics like the Koenigsegg CCX, earning money by winning races so you can buy new cars and upgrade them with new performance parts. You race across four circuits – Chicago, London, Tokyo and a World Tour – and can play in single-player or multiplayer races (local only, either Bluetooth or Wi-Fi).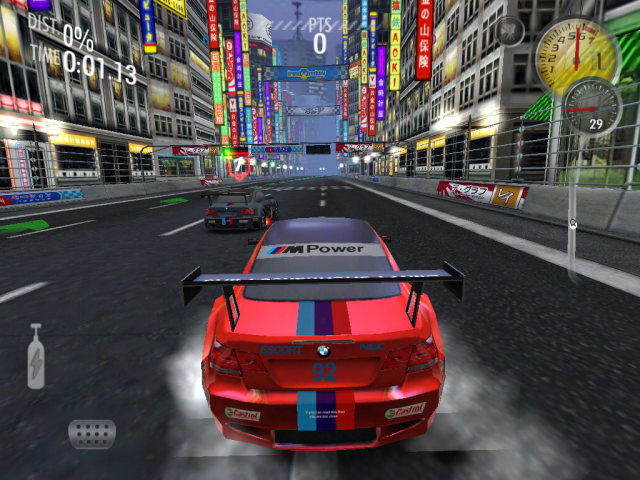 Labyrinth II HD
Illusion Labs' Labyrinth II HD is one our favorite ways to show people unfamiliar with the iPad how intuitive gameplay can be, thanks to the built-in accelerometer. Designed to look like a wooden maze game, you tilt the iPad back and forth to maneuver a steel ball through the maze, around pitfalls of all conceivable shapes and sizes – from the mundane, like holes in the board, to the esoteric, such as lasers and magnets. Labyrinth II HD features single player and multiplayer levels and expandability – you can download dozens of new levels to continue the gameplay.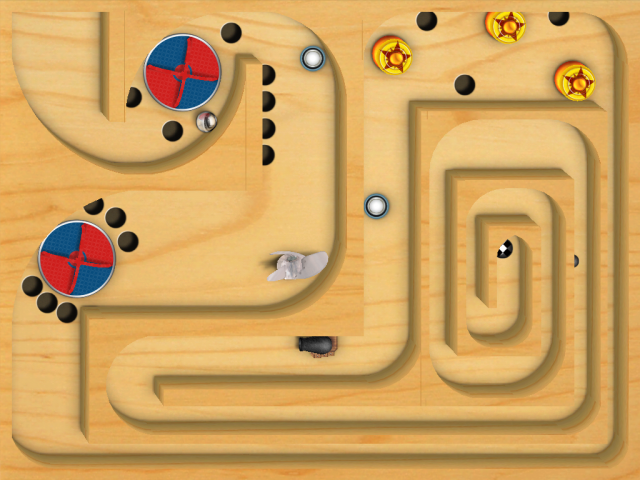 Foosball HD
In our continuing quest to find games that are fun for players to go head-to-head on, we present Foosball HD. From the same developers who brought us Labyrinth II HD comes Foosball HD, a recreation of the classic table soccer game found in pubs, family rooms and arcades the world over. The game lets you play alone or with another person, and gameplay is simple and intuitive (you give each handle a flick to send your men spinning, kicking a soccer ball across the table pitch and hopefully into the opponent's goal). There are six rods (three for each team), compared to eight on the full-sized tables we've seen, but that doesn't diminish the game play or the fun.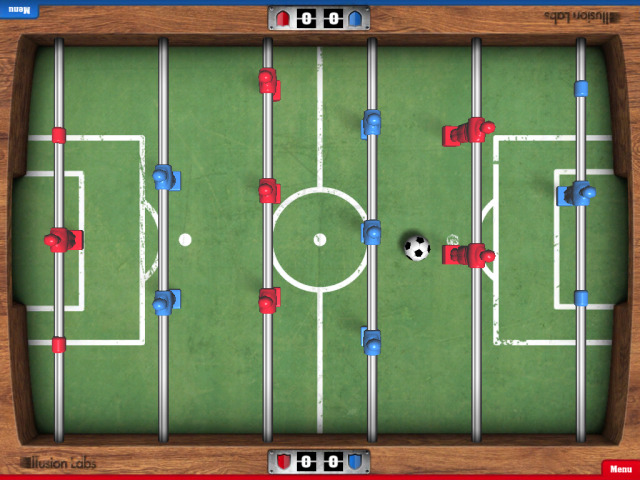 The War of Eustrath HD
A tactical strategy RPG with strong anime overtones, The War of Eustrath HD puts you in control of giant fighting robots called "GEARs." The game sprawls across 50 campaign stages with over 40 units to command, special abilities and upgrades, plus plenty of cutscenes and dialogue to keep the story moving. To that end, the dialogue is a bit stilted (and error-prone at times), but it's a lot of fun for fans of tactical strategy.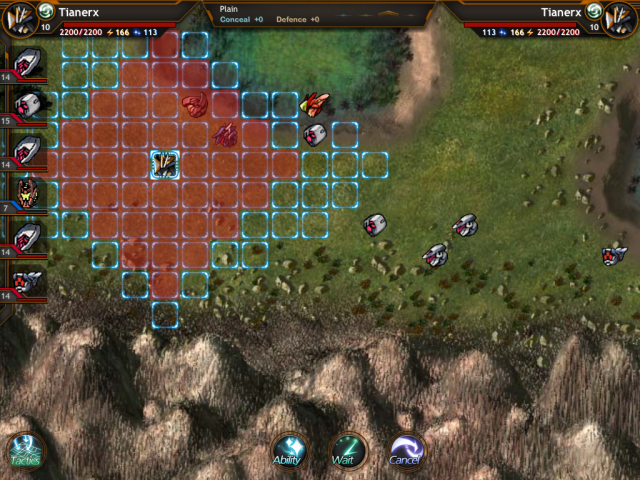 Words with Friends HD
The folks behind Ngmoco's We Rule also created a Scrabble-style multiplayer crossword game called Words with Friends HD. All the features you'd expect are here – double word and triple letter scores, the ability to play against friends and complete strangers, a pass and play mode that lets you use a single iPad between two players, and simple drag-and-drop mechanics. For $3, it's a fraction of what the "official" Scrabble game costs, and just as fun.
Twin Blades HD
A gun-wielding nun killing zombies. Need we say more? This side-scrolling action game has an iPhone variant as well, but Twin Blades HD positively shines on the iPad, with rich-detailed cartoon-style graphics and animation. You have to save the town from a horde of brain-chomping zombies using weapons ranging from a scythe to a machine gun to nukes. There are bosses to confront, 10 different environments, and online score tracking through the popular OpenFeint service. If you're a fan of kawaii-style manga or anime, you'll love the graphics here – big heads, big eyes and adorably cute characters.
Espgaluda II
Let us say at the outset that Espgaluda II is not a native iPad game – it's an iPhone game. It's the only such game on our list, in fact. But that doesn't mean it's not awesome to play on the iPad. It's a "bullet-hell" style shooter originally developed for the Xbox 360, and later adapted for the iPhone 3GS and third-generation iPod touch. Pixel-doubled graphics don't diminish how awesome Espgaluda II is to play on the iPad – it's a real arcade-style Japanese manic shooter that's actually more fun to play on the iPad than the iPhone.