The iPhone and iPod touch both make great handheld gaming systems. The iPhone 3GS and latest-generation iPod touch sport some under-the-hood improvements that make games load faster and perform better than before. Here's a roundup of thirty games that will keep you busy into the wee hours with your iPhone or iPod touch.
[ad#Google Adsense 300×250 in story]iTunes 9's Home Sharing feature is the budget-conscious gaming family's best friend this holiday season. Why? Because just like with music and videos, you can share the applications you download from the App Store on up to five Macs, and on the iPod touches or iPhones you have connected to those machines. So you only need to buy one copy of a game – then each member of the family can load it on their device.
But with tens of thousands of games to choose from, it can be a bit overwhelming to figure out what the best choices are. So I've compiled a list of thirty games – ten in three different general categories – which I think you might like.
Please make sure to check the ratings of individual games on the App Store to make sure they're appropriate for your family, by the way. Apple does a good job of identifying content that it thinks might be unsuitable for younger players, so if you're buying stuff for your kids, please heed the notifications.
Racing
One of the App Store's most popular gaming categories is racing, and it's easy to understand why: the iPod touch and iPhone's accelerometer and touchscreen controls lend themselves perfectly to racing games.
Real Racing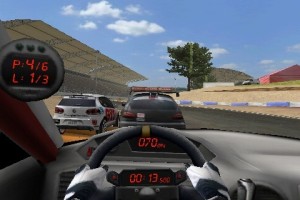 Firemint's Real Racing is one of the most realistic auto racing titles on the iPhone platform – it sports 48 cars in 4 classes, 12 tracks and five different game modes, a sprawling career mode, Wi-Fi based multiplayer and more features you can shake a stick(shift) at. It's a great value for $5, but if that sounds pricey, check out a special GTI version commissioned by Volkswagen. Same great physics and graphical detail, just specifically with VW sport hatchbacks.
Need for Speed Undercover
EA's $5 Need for Speed Undercover is the iPhone OS version of the same game you can get for your home console. It puts you behind the wheel as an undercover cop infiltrating the dangerous underground racing scene in fictional Tri-City as you race 20 real-world cars. There are eight race modes, three different unique environments, customization options that let you trick out your car with spoilers, wheels, body kits and paint, performance upgrades and more.
Asphalt 5
Gameloft has created a memorable franchise with its Asphalt series, most recently immortalized on the iPhone in version 5. It sports 30 real-world rides from Lamborghini, Audi, Ferrari and other manufacturers, 12 exotic locations like St. Tropez and Aspen, eight different events to challenge you, six-player support for Bluetooth and online, and other features to keep you interested. It'll set you back $6.
Wave Blazer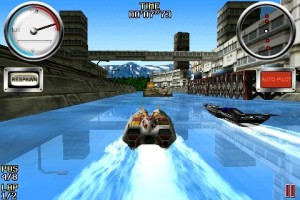 Polarbit's $4 Wave Blazer is a boat racing game that puts you in the cockpit of high-powered hydrofoils racing more than a year old, so it's getting a bit long in the tooth by iPhone game standards, but that doesn't make it any less fun. It's a favorite in our house because it reminds us of some of our favorite racing games from the old Sega Dreamcast days.
Shrek Kart
This was an unexpected hit in our house. The big green ogre made popular in DreamWorks' movies has his own racing game, Shrek Kart. Designed to appeal to younger players who have cut their teeth on fare like Mario Kart, Shrek Kart sports all of your favorite Shrek characters, four game modes and multiplayer support, ten unique karts, power-ups, 15 tracks to choose from and more. It'll set you back $5.
2XL ATV Offroad
2XL Games' 2XL ATV Offroad lets you rip mud and dirt behind the handlebars of four-wheel all-terrain vehicles across 16 different tracks, including two freestyle levels where you can bust crazy stunts. There's an extensive career mode and achievement system, Wi-Fi multiplayer support for up to five opponents, two different classes (250cc and 450cc), lots of vehicle and rider customization options, eight different control schemes, adjustable difficulty and a lot more under the hood to keep you coming back for more. I like this game a lot more than their previous effort, 2XL Supercross. It's pricey as iPhone games go, though, coming in at $8.
Rally Master Pro 3D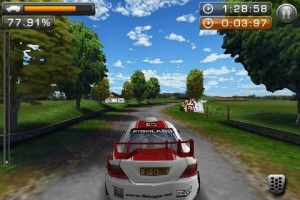 As fun as track racing can be, let's face it – it's not nearly the same test of skill and fortitude that you'll find in a rally race. Scramble through pavement and over dirt roads, mud, snow and worse as your navigator shouts out directions. Fishlabs' impressive $5 Rally Master Pro 3D is an ambitious attempt to bring that sort of racing to the iPhone platform. You can race 27 tracks in three different game modes, simulate damage and weather, and check your high scores against others online.
Cro-Mag Rally
Pangea Software's Cro-Mag Rally first saw the light of day on the Mac, and has been resurrected to run on the iPhone OS. It's a kart racing game in the same vein as Shrek Kart, but featuring bone-throwing cavemen (and cavewomen) that careen around nine different tracks in 11 vehicles with a bunch of powerups to grab, as well. It's a steal at $1 (on sale for a limited time).
Crash Bandicoot Nitro Kart 3D
Activision's Crash Bandicoot Nitro Kart 3D still ranks in the top ten of paid racing game apps almost a year and a half after the game debuted; in fact, it was one of the first games to appear on the iPhone. It's hard to argue with that sort of success, and in truth, it's a lot of fun. A 3D kart racing game featuring the beloved cartoon marsupial (of PlayStation gaming fame), it features a dozen tracks, different powerups and simple gameplay mechanics that make it a surefire hit with younger players, especially those familiar with Crash's exploits on other game systems. It costs $3.
Fast & Furious The Game
I usually don't expect very much from movie tie-ins, but Fast & Furious The Game is surprisingly good. The $2 game sports seven modes, Wi-Fi multiplayer support, "ghost racing" that lets you challenge other players' drive times by downloading their "ghost" and racing against that, 36 different cars ranging from import to sport to exotic, and 18 different levels in four environments.
Action
The "action" moniker cuts a pretty wide swath, and I admit that I'm being a bit loose with the definition here, because at least a few of the titles I have on this list also fall into other categories like strategy, sports and RPG. But the bottom line is that all of them demand your full attention and quick reflexes in order to play – and they're all loads of fun.
Star Wars Trench Run
THQ's $5 Star Wars Trench Run puts you in Luke Skywalker's shoes, piloting an X-Wing as you battle TIE fighters above the surface of the Death Star, then down a trench before firing off proton torpedoes into a thermal exhaust port to set off a chain reaction that will destroy the Death Star once and for all. It's a one-trick pony, I admit, but it recreates the best part of the original movie that serves as a high-water mark of Sci-Fi for so many of us.
Dungeon Hunter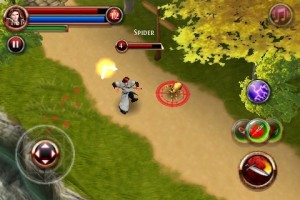 If you're looking for a Diablo-style experience on the iPhone, one of the most impressive so far is Gameloft's $5 Dungeon Hunter. You select from Rogue, Knight or Mage classes as you explore a fantasy world filled with monsters and mayhem. There's tons of hack and slash action as you acquire weapons, armor, magic items and more across the world of Gothicus, achieving quests and missions on your way to fight the evil queen who now rules the land with an iron fist.
Call of Duty: World at War Zombies
The $10 price tag hasn't dissuaded thousands of iPhone gamers from downloading Activision's superlative first person shooter, Call of Duty: World at War Zombies, and that's a good thing. First of all, $10 – in fact, all the game prices you see in this round-up, is a pittance compared to what you'd pay on the DS or PSP. Secondly, this is a load of fun – kill zombies in a World War II setting. Zombies and Nazis? Life doesn't get any better than this.
Blades of Fury
One of the favorite game series of all time in my house has been the Soul Calibur line – 3d arcade fighting games that pit elaborately costumed characters against each other in fairly bloodless but intense dueling combat. That's unquestionably Gameloft's biggest inspiration for Blades of Fury, a technically impressive and fun fighting game for the iPhone. $5 gets you 10 characters, each with about 20 different attacks and combinations, 10 arenas, four game modes, multiplayer support over Wi-Fi and Bluetooth and more.
Backbreaker Football
Don't get me wrong: Madden and NFL 2010 are impressive games, but they are, like the sport they simulate, very, very technical. It's easy to get bogged down in the details of selecting and executing plays. Backbreaker, Natural Motion's $1 action game, distills the football experience down to its basics: All you're doing is running the ball, as fast as you can, into the endzone. Of course, defenders are going to try to block you, more with each passing level, and that's where sprinting, juking and spinning will get you out of (or into) trouble.
Underworlds
Don't mistake Underworlds, a $3 RPG from Pixel Mine, as a Diablo pretender. Although squarely an action RPG, Underworlds harkens back more to classics like UItima (or more recently for Mac fans, Spiderweb's excellent Avernum series). I loved Underworlds when it first came out, and Pixel Mine has expanded it dramatically with another chapter.
Dark Nebula Episode One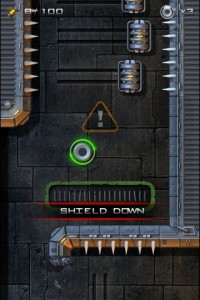 If you've ever played Labyrinth – either on the iPhone or the real wooden maze game – you'll have a basic idea of what to expect in 1337's $1 game Dark Nebula Episode One. You move a ball through a maze. But that's where the similarities end. This game is optimized from top to bottom for the iPhone, and features scrolling levels and platforms filled with futuristic pitfalls and perils. It's ten levels long and I can't wait for episode two.
Auditorium
Hands down, my favorite music game by far on the iPhone is Auditorium, priced at $3 from EA. It's a puzzle game of sorts in which you must guide the "Flow" around the screen using various mechanisms at your disposal. As the Flow passes into each Container, it'll activate a loop of tranquil, symphonic music. Guide the Flow through all the audio Containers to pass the level. The game includes five "Acts," each with seven levels, and In-App Purchases let you buy additional "Movements" to extend gameplay. It's based on a title that was originally developed for the Mac and PC, and definitely worth checking out.
Skee-Ball
Freeverse and Graveck teamed up to create a simple but memorable simulation of the Skee-Ball bowling game found in arcades, midways and Chuck E. Cheese's restaurants around the country. The game even rewards your high scores with tickets which you can redeem for virtual prizes. The physics and sound recreate with perfect accuracy the experience of the real game, and integration with Ngmoco's Plus+ Network add some social networking relevance, too. Impressive for just a buck.
Garters & Ghouls
Namco Networks' Garters & Ghouls puts you in the role of Marie Dupois, recently brought back from the dead to battle the shambling minions of The Thrum. The game features 25 levels and a progressive level design that will challenge you throughout. You collect weapons and powerups as you blast zombies and other monsters in a storyline that will have you chuckling along the way. Poor Marie rises from the grave, unaware that she's dead and unclear on what she has to do to be at peace.
Strategy
Strategy comprises one of my favorite categories in the App Store's games catalog. There are a ton of really fun strategy games ranging from real-time strategy to tower defense, simulation and more.
Command & Conquer Red Alert 3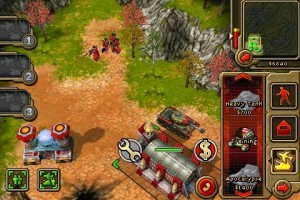 EA's Command & Conquer Red Alert 3 is an adaptation of the spinoff of the popular real time strategy game series; a tongue-in-cheek variation that pits the East and West in a pitched battle for supremacy in an alternate world where the Soviets and the U.S. are still fierce rivals (along with the mysterious Empire of the Rising Sun, the Japanese, available as an expansion pack). It costs $7.
Grunts
Freeverse and Strange Flavour's $1 Grunts is fun and funny – you move a squad of squeak-talking grunts around 40 levels as you try to stop General Issimo's invasion plans. Four difficulty levels, online high scores and an unlockable zombies mode make the game more fun, all with the trademark humor and zaniness you'd expect from a Freeverse/Strange Flavour joint effort.
SimCity
That's right, EA has brought the classic Maxis hit to the iPhone, and charges a mere $3. SimCity for iPhone OS resembles the old SimCity 3000 game, rendering graphics in intricate isometric detail. You can create and customize a thriving metropolis in three different time periods ranging from the dawn of the 20th to the dawn of the 21st centuries, saving the populace from disasters natural and manmade, managing utilities, transportation and expansion and figuring out how best to spend your municipal budget.
Flight Control
In fairness, there are a burgeoning number of air traffic control-style games on the iPhone, including some that have you controlling boat or spaceship traffic instead. But Firemint's $1 Flight Control is a best-seller. Simple graphics and easy-to-understand gameplay mechanics bely a serious challenge as you try to land airplanes of varying types and helicopters in an increasingly busy airspace. The latest update to the game incorporates four airfields and 10 aircraft types. You can plug in your high score to a worldwide database that will even tell you how well you're doing against other opponents in your geographical region.
Fieldrunners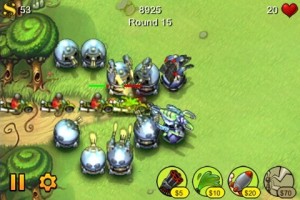 The tower defense genre has gotten really crowded, but one of the standout games in the genre has to be Subatomic's $3 Fieldrunners. You defend your home base from invasion by erecting a battalion of defense ranging from artillery to missiles to ray guns and more. The game features cartoony graphics, top-notch animation and superlative gameplay. It's really a standout.
The Settlers
Gameloft has adapted Blue Byte's long-running strategy game The Settlers for the iPhone and sells it for $7. Romans, Vikings and Mayans compete (or cooperate) to reach a variety of goals in newly occupied lands. You must make sure your settlers have ample access to raw materials in order to build thriving towns and cities, engage in trade, forge alliances, or build armies and lead them into battle.
The Oregon Trail
I think there are two games that have to be on any gaming platform before they can be considered legitimate: Tetris and The Oregon Trail. This $5 adaptation of the game which dates all the way back before the advent of the personal computer puts you on the trail of early American pioneers as they traveled westward. Updated for the iPhone and iPod touch, The Oregon Trail features colorful graphics, sound and eight skill-based mini games that will have you hunting, fishing, fording rivers, rafting and more.
Cooking Dash
Playfirst has adapted their enormously successful casual task-management game Cooking Dash as a $3 iPhone game. You're Flo, and you have to manage food prep, service and cleanup in five DinerTown restaurants to keep the money flowing in and the doors open. The game features more than 50 levels.
Crystal Defenders
Cut from the tower defense cloth, Crystal Defenders is an $8 game created by Square Enix, makers of the legendary Final Fantasy game series. You have to position units to keep monster hordes at bay. Crystal Defenders uses characters from the popular game "Final Fantasy Tactics A2" like Black Mages as they progress through 360 stages of action in three different game modes. It's not cheap, but if you like tower defense games and you're a Square Enix fanboy (or fangirl), look no further. Also check out Vanguard Storm, the $5 sequel.
Harbor Master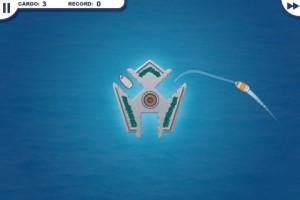 Similar in concept to Flight Control, Imangi's Harbor Master puts you in control of boats as they enter and leave one of six harbor settings. You have to steer them into port, let them offload their cargo and passengers, then direct them away, making sure that they don't hit each other. Smaller ships are faster, bigger ships carry more cargo. Some are color-coded and can only dock at piers of the same color. It requires careful time management skills and a steady hand, and it'll keep you busy – well worth a buck.