Apple on Wednesday revealed the dates for its annual Worldwide Developer Conference – it happens June 7 – 11, 2010, at the Moscone West conference center in San Francisco, Calif. Eagle-eyed observers noticed something unusual about this year's offering: for the first time, the Apple Design Awards event that happens during WWDC will focus only on iPhone OS apps.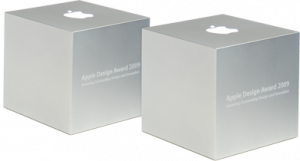 It's certainly no secret that the focus of WWDC has turned increasingly to iPhone OS in recent years: the technology has gained importance for Apple with the dominance of iPhone devices, popularity of the iPod touch and, most recently, with the release of the iPad. And as developers have sought fortunes on the App Store, so, too, have their attentions drifted in that direction.
Mac OS X remains an important part of the WWDC experience, of course. It's a mainstay of Apple's core technology focus, and many commercial developers and IT professionals will be attending WWDC with the intention of boning up on important Snow Leopard and Snow Leopard Server technology.
But this year marks an important turning point: For the first time, the Apple Design Awards will focus specifically on iPhone and iPad applications.
Apple Design Awards recognize applications that demonstrate qualities Apple wants to underscore in third-party products developed for its operating system, like technical excellence, innovation, technology adoption and overall quality. Past winners have included Billings by Marketcircle, Delicious Library 2 from Delicious Monster, Transmit from Panic and many other apps.
Beginning in 2008, the Apple Design Awards recognized iPhone applications in separate categories, and in 2009 turned attention to a iPhone developer showcase, student application and iPhone OS 3.0 beta app.
But this year, it appears that Apple is only accepting nominations for iPhone OS applications at all. The app needs to be available on the App Store to be nominated, according to Apple.