I'm not a pro photographer by any means. In fact, Apple's iPhoto satisfies most of my needs quite well, so that's how I decided to take a look at Aperture 3. Being an iPhoto user doesn't mean that I don't want more advanced features. Having things like facial recognition and GPS locations of my pictures was huge for me. As expected, Apple enhanced these features for Aperture 3, making them more powerful.
These are advanced features I can use. Being able to use Faces on a single project is a great addition. Similarly, the ability to use more advanced GPS locations is a function I can see myself using quite a bit.
Even though I'm not a pro, I still take quite a few photos — especially if I'm on vacation or on a trip with my family. I like to document my trips the best I can.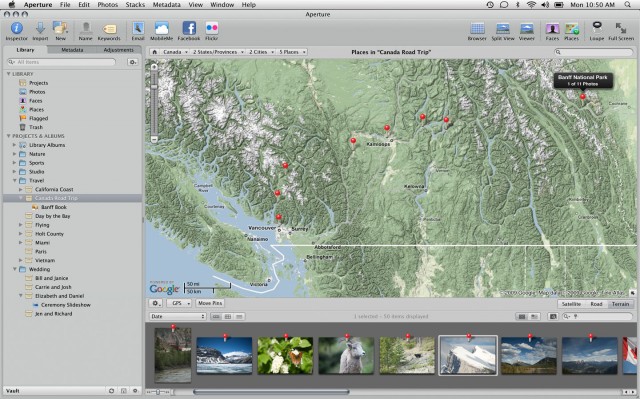 Using Aperture's new GPS log tracking functions, I can take a photo and drop it on a map where I shot it and Aperture will automatically drop the rest of the pics where they were taken.
Aperture is built for the pros, there is no doubt about that, but Apple is making it easier for the rest of us to upgrade and make use of the features. Apple's music and movie apps have a consumer, prosumer and high-end packages, but with photography they seem to be setting on iPhoto and Aperture.
With the integration I've seen so far, they have done quite well in making it something we can all use.
Things like importing your iPhoto Library is very simple — it's just a menu item. All of your metadata stays in place, so anything you did with the pictures come with them to Aperture.
Of course, Aperture provides many more advanced features if you want them, but they also have presets available for one-click corrections.
Aperture also has access to MobileMe, Flickr, email, and Facebook, all with a single click.
These are the types of things that give iPhoto users like me a reason to upgrade to Aperture.