Apple on Tuesday announced the release of Aperture 3, a major new version of its photo editing and management software for the Mac. It's available now for $199; upgrades for existing Aperture users cost $99. Apple has also released a 30-day free trial, available for download from the Web site.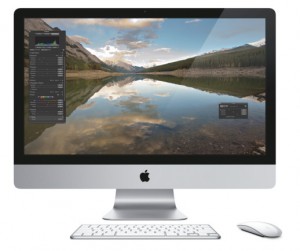 Aperture 3 sports more than 200 new features, including Faces and Places features similar to those in iPhoto '09. Faces detects faces in your photographs, making it easier to find specific people. It works across your entire photo library or only in selected projects. You can also find photos based on location using Places; Aperture 3 can reverse-geocode Global Positioning Satellite (GPS) data onto your photos, as well.
Brushes is another major new feature in Aperture 3. The tool lets you "paint" effects onto your image like Dodge, Burn, Polarize and Blur, without having to use masks or layers. Brushes will automatically detect edges, and Aperture 3 ships with dozens of adjustment presets that let you apply styles or looks. you can also create your own presets or use presets other Aperture users have developed.
Facebook and Flickr photo sharing support is built in, and you can export your images as slideshows that combine photos, audio, text and music directly to iTunes to share on an iPod or iPhone.
Apple also noted that Aperture 3 runs in 64-bit mode in Mac OS X 10.6 "Snow Leopard." This can improve performance for Snow Leopard users working with very high-resolution images on Macs with lots of RAM installed.
System requirements for Aperture 3 call for an Intel-based Mac with Mac OS X 10.5.8 or 10.6.2 or later, 1GB RAM (2GB RAM required for Mac Pro), 1GB disk space, DVD drive for installation and 7GB additional disk space for sample library.