Apple has quietly introduced a new option for its high-end desktop computer, the Mac Pro, offering the system with a single 3.3GHz Quad-Core Intel microprocessor. The new option is available for $3,699 – $1,200 more than the base price of a 2.66GHz Quad-Core equipped model.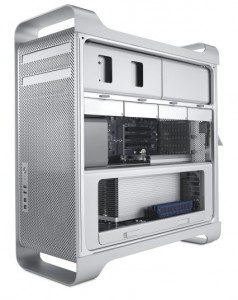 The Eight-Core Mac Pro remains available and unchanged with two 2.26GHz, 2.66GHz or 2.93GHz Quad-Core Intel Xeon microprocessors, priced starting at $3,299.
The addition of the 3.3GHz Quad-Core Mac Pro helps add some distance between the Quad-Core Mac Pro and from the 27-inch Quad-Core-equipped iMac introduced in October. Benchmarks reveal that the Quad-Core iMac outperforms the low-end Quad-Core Mac Pro.
What's more, a 2 terabyte (TB) 7200RPM Serial ATA (SATA) hard disk drive is now available as a storage option on configure-to-order Mac Pros (as well as Apple's rack-mount Xserve). The 2TB drive mechanism costs an extra $350 when upgrading from the stock 640GB drive included with the Mac Pro, or $550 for one of the three open bays. So the maximum internal storage capacity for a Mac Pro available from the factory is now 8TB; Xserves can now be equipped with up to 6TB of internal storage.
While convenient for users ordering new equipment fresh from the factory, it's worth noting that street prices of 7200RPM SATA hard drive are less than half what Apple charges. It's trivial to install new drives in a Mac Pro, which was designed for easily user-accessible expansion: internal SATA drives are mounted using sliding trays included with the system. Customers on a tight budget with no qualms about opening their computer are advised to check third-party hard drive retailers instead.
Hat tip: AppleInsider