The Apple TV is far from dead. In fact, one analyst believes that Apple will update the device with some interesting new features, like DVR capabilities or subscription service for TV shows. There is also speculation that Apple will launch its own connected television.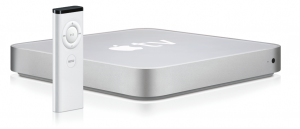 Piper Jaffray Senior Research Analyst, Gene Munster, said in a research note to clients that he expects Apple to offer one of those features in the next major revision of the Apple TV. Munster said he expects Apple to release the update in the next several months.
With ad-based Internet TV like Hulu.com and subscription models from Netflix, Munster feels that Apple may have lost market share in the last little while. This is leading Apple to consider other possibilities for its video offerings.
The TV subscription wouldn't be like it is now with Season Passes, but rather a replacement for your current cable TV service. Under the plan Apple would charge a monthly fee of $30-$40 for access to a sub-library of shows on iTunes.
"Such a product would effectively replace a consumer's monthly cable bill (~$85/month) and offer access to current and older episodes of select shows on select channels," said Munster.
Munster also believes that Apple will design an Apple connected television that has DVR and home media functionality built-in. The television, which he expects in 2011, would give Apple a bigger push into the living room.
Like its other products, Munster believes Apple could build a niche for itself by catering to the high-end market and for those that want a hassle-free setup.
Of course, there are other ways Apple could achieve a more full-functioning Apple TV, like building the software into a Mac mini.