The Apple TV is one of those devices that has a lot going for it, but never really lived up to its potential. I think you'll see that change in the next little while.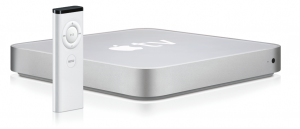 The Apple TV allows you to watch videos and listen to music on your home entertainment system, from computers on your local network. You can also sync a computer to the device, so it will transfer all of the media to the Apple TV, allowing you to watch and listen without having the computer on.
This is a pretty slick system. I have two Apple TVs and use them quite often, especially when I miss one of my favorite shows. I just go on, search for the show I'm looking for and download the episode. Easy as that.
Movies, especially in the summer, are a big draw in my house. The ability to get new movies without having to leave the comfort of my home is a big plus for me.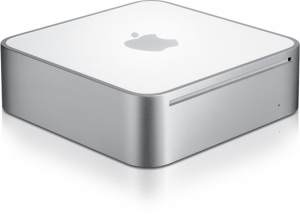 However, the amount of hacking on the Apple TV and the move to the Mac mini as a media center for some users has shown Apple that perhaps the real media center hardware should be the mini. (Chris Breen has done a comprehensive guide to turning a Mac mini into a media center at Macworld.)
With the Mac mini's hardware and the Apple TV's software, Apple has the best of both worlds. And that's just what I think the next Apple media center will look like.
With an optional Blu-ray drive, users will be able to purchase a Mac mini complete with Apple TV software included. That means you can have a full media center, with the ability to burn DVD or Blu-ray disks.
Of course, with the Blu-ray and DVD support, you will also be able to watch movies just like you would from your home theater setup. The Apple TV software will allow you to do all the things you do now, like purchase shows and movies, but the hardware configuration takes it to the next level.
This would also explain the news over the weekend that iTunes 9 will support Blu-ray.
It would be nice to have built-in DVR functionality with the Apple TV, but that's not crucial. Because you are using a Mac mini, it's easy to install Elgato's EyeTV and a TV tuner, which would turn your Mac mini/Apple TV hybrid into everything you wanted in a Mac media center.