UPDATE: Scroll to the bottom for a list of questions I've been responding to on Twitter.
I've been looking forward to an Amazon Prime Video app on my Apple TV for quite some time.
The good news is, the app is here and available for download. The better news? The app works quite well. One caveat, which I'll get to in a minute, but the overall experience is excellent, just what you'd expect from a well-written Apple TV app.
First things first, if you haven't kept up, download and install the latest and greatest version of tvOS. The Amazon Prime Video app requires tvOS 11.1 or later.
On your Apple TV, go to: Settings > System > Software Updates > Update Software
The update will take a few minutes. Once your Apple TV is up to date, launch the App Store app on the Apple TV.
In the App Store, tap up, then over to the right to get to Search. Tap "am" and you should see the Amazon Prime Video app, like so: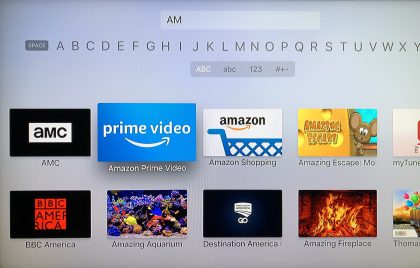 Tap install, then tap open to launch the app. The first thing that will appear is this (somewhat confusing) launch screen: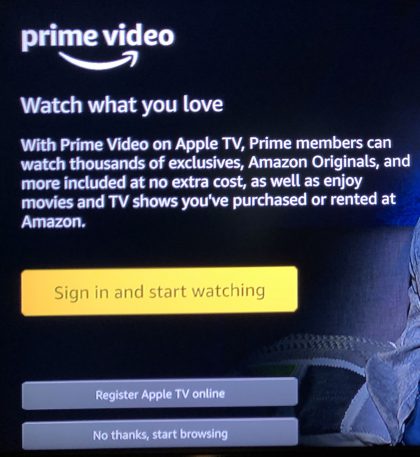 The three choices are:
Sign in and start watching: You'll need to enter your email and password, log in to Amazon to access your Prime Video content.
Register Apple TV online: This is a great, though slightly broken shortcut, allowing you to add your Apple TV to your Amazon account via your browser. This bring up the caveat I mentioned above, and the path I will follow in a sec.
No thanks, start browsing: A guest mode, let's you browse around.
I tapped the second button, which displayed a code on the screen, told me to head over to amazon.com/mytv. When I typed that URL into Safari, it took me to a "My TV" product page on the Amazon site (the issue is Safari autocompleting the URL). If this happens to you, try clicking on the URL in this post (just above). That should work. If it doesn't, head on over to Chrome and open the link there.
You'll be presented with a text box, asking you to enter the code displayed on your Apple TV. Enter the code and, hopefully, the behind the scenes elves will make the proper connections and you'll see something like this on your Apple TV: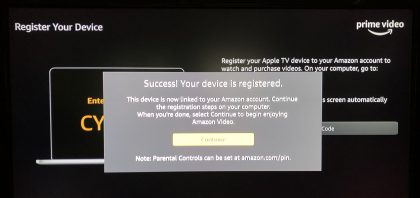 Your Amazon Prime Video app is now linked to your Amazon account, all pretty painlessly. Dismiss the alert, and you are good to go.
The app works quite well. I was able to use the remote microphone to do search, just as you'd expect. One thing I'd like to see added is Hulu/Netflix style individual user accounts. Since Amazon's shopping experience is not built for account sharing, I'm not sure how they will be able to implement this. But if they are going to play in this space, they should consider adding this.
Questions? Ping me on Twitter.
QUESTIONS:
Does the Amazon Prime Video app support the new Apple TV 4K? In short, yes. From the Apple press release:
Prime members can now access thousands of titles through the Prime Video app on Apple TV 4K and previous generations of Apple TV, including Prime Original Series and Movies such as "The Marvelous Mrs. Maisel" and "The Big Sick," with additional titles coming to the service every month. Prime Video also offers a wide array of award-winning kids content, including "Tumble Leaf," "If You Give a Mouse a Cookie" and "The Snowy Day." Prime Video further expands the library of TV shows and movies available in 4K HDR on Apple TV 4K.
Does the Amazon Prime Video app support Siri search? Yes, though it does not appear to be integrated into the TV app. But if you go to the top level Apple TV Search function, you'll find Amazon Prime Video content, and selecting that content will launch the Prime Video app.

Note that the Safari link (amazon.com/mytv) appears to work for some people, not others. So give it a try. If it doesn't work, head over to Chrome.