When Apple released the Apple Watch Series 3 at its event last week, it added a few really big new features, including cellular capabilities to the device. I've been testing out a cellular model with an iPhone 8 for about a week.
It's hard for me to express how much I love the Apple Watch. It helped me get healthier, lose a lot of weight, and with its notifications, it changed the way I use my iPhone. With the addition of cellular, that is going to change even more.
Even after the demonstration that Jeff Williams did on stage when he called a colleague on an Apple Watch paddling in the middle of a lake, I was skeptical. I was impressed, but I was skeptical because it sounded so good.
The only thing to do was test it myself.
I went to the financial district of San Francisco with my father. I left my iPhone at home, so all I had was my Apple Watch. He walked one way and I walked the other. A couple of minutes later, he called and I picked up the call on my Apple Watch.
I had the watch about chest high when I was speaking, but he said he could hear me "clear as day." I could also hear him clearly from the Apple Watch speaker.
Next, I dropped my arm and started walking, but continued my conversation with him. He said he could still hear me just fine, even though my arm was down by my side and I was walking at a normal pace. To be honest, I wanted to see what I could do so that he couldn't hear me, but he kept saying it sounded fine.
There was some traffic in the area, but it wasn't incredibly busy with horns blasting when we were doing the tests. However, San Francisco is a busy spot around mid-morning on a weekday, so it was a good place to test the cellular capabilities.
Finally, I tried a phone call using my AirPods and the Apple Watch and he said that was the best—the sound was incredible at that point. Of course, that makes sense.
With technology so prevalent these days, we never want to miss out on anything that happens. We all carry our iPhones everywhere we go and check them nonstop—many would say too much.
In the past week, I've gone out multiple times without my iPhone and still received messages, emails, and phone calls. I was still in touch with people, but I felt a little free not having my iPhone with me.
If I left my iPhone behind accidentally, I'd be freaking out and need to get home to get it in case something happened—I didn't feel that with the Apple Watch Series 3. I had everything I needed on my wrist.
Originally, I loved the notifications on the Apple Watch because it allowed me to see what was going on without having to pick up my iPhone. Every time I picked up the phone, I would get stuck going down a rabbit hole of checking everything that came in. With Apple Watch, I can look at a notification and decide if it's something that needs to be dealt with or not.
What's interesting about the Apple Watch Series 3 with cellular is how it chooses to connect to a network.
The first thing the Apple Watch will try to do is connect to your iPhone. If your iPhone is off or not around, it will try to find a known Wi-Fi network, whether you're at home or not. If it finds one, it will connect to make and receive phone calls. If it can't find a Wi-Fi network, it will then connect to the cellular network.
It knows the Wi-Fi networks that it should connect to because it is paired with your iPhone. Whatever networks are on there, will be on the watch too.
You can check to see where your Apple Watch is connected by swiping up on the Watch screen. It will show a picture of an iPhone, Wi-Fi, or cellular connection.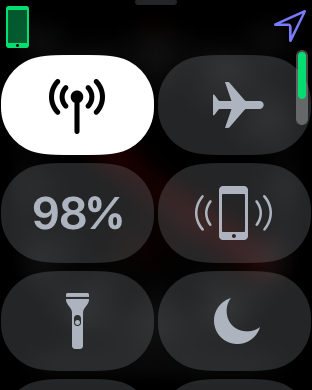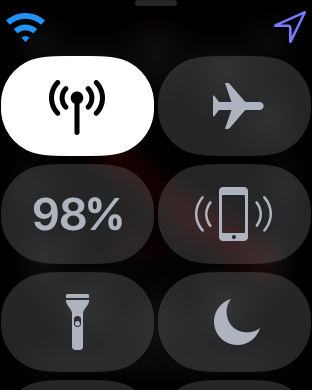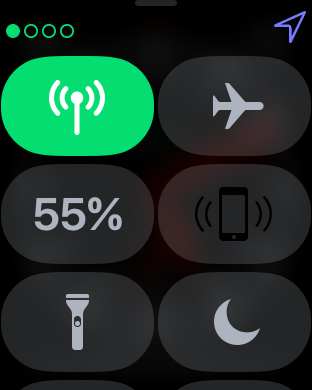 The only time you will see any kind of indication on the watch face screen is when it's connected to a cellular network—it will show the green dots. That can be confusing because you may think you don't have a connection at all, but you could be connected to the phone or Wi-Fi. I wish Apple would change that—perhaps change the color of the dots to indicate what type of connection you have.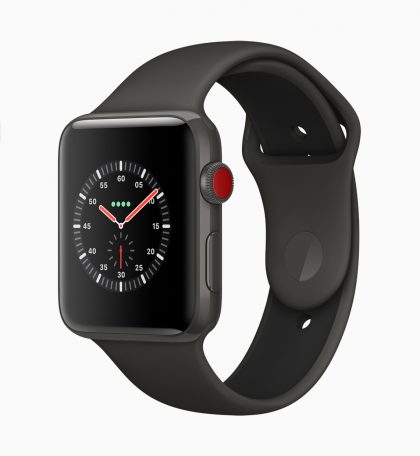 A few other things
Apple Watch Series 3 comes with an S3 dual-core processor that Apple says is up to 70 percent faster. This increased processing power allowed Apple to do things like enable Siri to speak on the watch.
I actually use Siri on my watch more than my iPhone. I set timers and simple things like that. I also tell Siri what music to play from my watch while I'm driving.
A new barometric altimeter allows Apple Watch to track the number of flights climbed in a day and you will get more credit for exercises going uphill. You will also see the elevation gain in your workout summary.
Speaking of workouts, that app received some updates too. The new workout app now supports HIIT by using custom motion and heart rate algorithms to accurately measure active and total calorie burn. You can also do multiple workouts in the new app by simply adding it—no need to stop one workout and start another.
One thing that Apple said during the launch that surprised me was that the watch was the most used heart rate monitor in the world. That's incredible. With the new heart rate app, Apple Watch can even send you a notification if your heart rate is above a certain threshold during an inactive period of 10 minutes.
I was disappointed that I couldn't try out Apple Music streaming on my Apple Watch—it will be available in about a month with a software update. However, Apple intelligently adds a couple of your most listened to playlists to the watch so you always have some music with you, even if you leave your iPhone at home. I use this a lot. You can choose different playlists if you want using the watch app on your iPhone.
Wrapping Up
I have a deep appreciation for the Apple Watch and the teams that work on all of this technology. It has changed my life and it continues to get better with every version. If you don't have an Apple Watch and are thinking about getting healthier, do yourself a favor and get one.
For those of you that want to take a break away from your iPhone, even for a few hours, but are afraid you'll miss something—meet Apple Watch Series 3 with cellular.