Apple introduced the iPhone 8 and iPhone 8 Plus during a special event at its new Apple Park campus last week. While many people were focused on the launch of the iPhone X, the iPhone 8 is an incredible piece of hardware that features many improvements over its predecessor. I've been testing both the iPhone 8 and iPhone 8 Plus for about a week.
The iPhone 8 has the same physical layout as the iPhone 7, so the accessories you purchased for the previous generation, like cases, will still work with the new iPhone. That's a great bit of news for those that purchase a lot of extras for their devices.
Like most of Apple's updates, that's where the comparisons stop with the previous generation—Apple has made some big changes to the iPhone 8.
The Experience
For some people, the iPhone experience starts after they have it all set up and they are ready to use the device. For me, it starts as soon as I open the box. Setting up the iPhone 8 was a delight that even I was surprised with.
Usually when you set up a new iPhone, you type in your Apple ID and password to get started, but Apple has changed that if you are setting up a device and have another one nearby.
After I turned it on, the iPhone 8 asked me to pick up my iPhone 7 and use it for setup. When I did, I saw this message.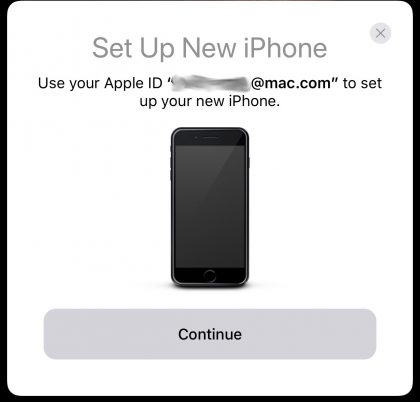 I clicked continue and saw this.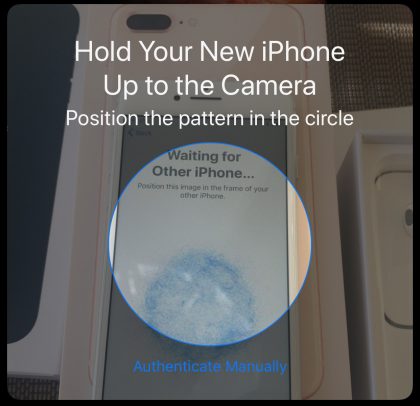 And then this.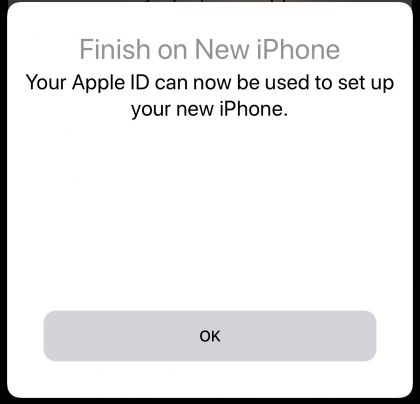 The iPhone 8 asked me if I wanted to restore from my latest iPhone 7 backup—it already knew which was the latest one in iCloud because it used my Apple ID to sign-in. I could also chose to update the current backup and use that to restore to my new iPhone or set up as a new phone. I chose to update the backup.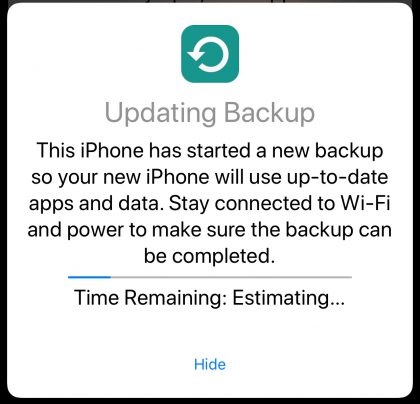 When it was done, it restored and it started downloading the apps from the App Store as it normally does after you do a restore. The entire process was absolutely painless and very intuitive.
I have not seen any device that was as easy to setup out of the box as this iPhone 8.
True Tone Display
I tweeted a couple of weeks ago that if Apple only added True Tone technology to the iPhone 8, I would be happy. Well, they added it to both the iPhone 8 and iPhone 8 Plus. This is a massive feature, especially if you use your iPhone outside in the sun—we all do that.
Here's how Apple describes True Tone:
True Tone technology automatically adjusts white balance to match the light around you. For a better viewing experience in all kinds of environments.
So in practical terms, what does that really mean?
It means that the iPhone is continuously adjusting the screen, using a four-channel ambient light sensor, to match the color temperature of the light around you. To put it even simpler: you can read your iPhone in direct sunlight.
First introduced in the iPad, True Tone is a very subtle technology—you won't see the screen change, it just will. All you will notice is that no matter where you are, you can see the screen better.
This is much different from auto-brightness. That feature simply adjusts the screen brightness—True Tone takes it many steps further by recognizing the lighting conditions around you and adjusting the screen for those conditions.
This is a technology that you truly have to use to appreciate, and I love it.
iPhone 8 also features a wide color gamut, giving it even better color accuracy on the new Retina HD display.
Wireless Charging
One of the design changes Apple made with the iPhone 8 is to add a glass back and wireless charging system to the device. I've been testing my iPhones with a Mophie Wireless Charging Base.
I usually charge my iPhone using a fast charging adapter, so it's very quick. If I have 45 minutes before I'm heading out, I can plug in my phone and get a great charge before I leave.
That's not what wireless charging does on an iPhone 8—it provides a slower charge, equal to that of the 5W USB Power Adapter that Apple provides with the iPhone. That will increase slightly later this year with a software update from Apple, but for now, that's what you get.
I'll be honest, I was a bit disappointed with it at first, but then I realized that wireless charging is more about convenience than getting that quick full charge.
I had the wireless charger beside me where I work. When I sat down, I just put the iPhone 8 on the charger, instead of putting it on the desk. Basically, the iPhone was getting a charge whenever I sat down to work.
This negated the need to do any type of quick charge, because the iPhone was always getting charged.
I asked Apple if there was any worry of wearing down the battery from continuously charging and they said it wasn't a concern. You can continually update the battery using the wireless charger, so your phone is always topped up.
Overall, the wireless charging worked very well and it's a feature I'll be using a lot, probably with multiple charging stations around the house.
Camera
I've said it before, but I really suck at taking pictures. The good news for people like me is that Apple keeps making its camera technology better.
The iPhone 8 has a 12MP camera with a larger, faster sensor. The new sensor allows for video stabilization and higher video frame rates. It also provides a level of stabilization to reduce motion blur and handshake in low-light photos and videos.
The new iPhone features an Apple-designed image signal processor that analyzes a scene and detects motion, people, and lighting, even before you take a photo. This seems amazing to me—the camera has already detected what's going on before I even hit the button to snap a picture.
One of the features I used the most with my camera is Portrait Mode and it just got better in the iPhone 8 Plus. The Plus has two cameras on the back—one wide angle and one telephoto, allowing even the most amateur photographer to take great pictures.
If you haven't seen Portrait Mode, it blurs the background of your photo and focuses the attention on the subject. It's a really beautiful depth-of-field effect that used to be something you would only see from professional photographers.
The new Portrait Mode improves background blurring and performance in low light to make those photos even better. Not only that, Apple has added a new portrait feature to the iPhone 8 Plus: Portrait Lighting.
Portrait Lighting uses facial landmarking and depth maps to create photos that are unbelievable—and quite honestly photos that were unattainable to people like me before using this iPhone.
Here are the options for Portrait Lighting:
Natural Light: Your subject's face in sharp focus against a blurred background. Studio Light. A clean look with your subject's face brightly lit.
Contour Light: Dramatic shadows with highlights and lowlights.
Stage Light: Your subject's face spotlit against a deep black background.
Stage Light Mono: Like Stage, but in classic black-and-white.
When you take a portrait, the lighting option appears on the bottom of the screen—you choose the one you want and take the picture. Here's the best part—you can change the lighting option after the picture has been taken. If you go into your photo library and tap on the picture, all of the Portrait Lighting options pop up on the screen.
The depth maps are so accurate that when you change the lighting to Stage Light, it can accurately isolate the subject of the photo and completely remove the background. It is truly remarkable to see in action.
That old saying: "The best camera is the one you have with you," just got a lot bolder when you're carrying around an iPhone 8 or iPhone 8 Plus.
Stereo Speakers
If there is one thing about the new iPhones that surprised me the most, it would be the stereo speakers—they are loud.
Apple says the speakers are about 25 percent louder than before and that sounds about right to me. In fact, I had to turn the speakers down a bit when I was listening to music on the iPhone 8.
I know this may sound strange to some, but I listen to music from my iPhone quite a bit when I work. I could use my Mac or even AirPods, but I always use my iPhone. I've been doing this for years, so now it's just habit for me to turn on music while I work.
If you like listening to music on your iPhone, you're going to love these speakers.
Augmented Reality
I'm an AR newbie for sure, but I've had some fun using the new iPhones with a few AR apps. I've been using The Machines AR by Directive Games, IKEA, and Sky Guide by Fifth Star Labs.
AR is much easier to use than I thought it would be and all of these companies have a great job of making the apps work with an iPhone that was designed with AR in mind.
I must admit, being a bit of a stargazer, I really enjoyed looking at the planets and stars with Sky Guide. It's fascinating.
iOS 11
There has been thousands of words written about iOS 11 in the past several months, so I won't go into that here. I will say that I've thoroughly enjoyed all of the new main features that Apple has introduced in the operating system and would strongly recommend upgrading.
There is one feature that I would like to call out though: App Store.
I love the new App Store in iOS 11. I basically stopped visiting the App Store because it wasn't very helpful to me, as a user. The apps were all games, and not being a gamer, going to the App Store was a waste of my time. I would download an app that friends recommended, but that was about it.
The new App Store is a breath of fresh air from Apple. It gives me recommendations, and while some are games, it doesn't feel like they are completely taking over the experience.
There are stories, videos, and collections to help you find apps that you may like or use. I've even read stories about cooking apps and I can't cook at all.
I've also downloaded more apps in the past few weeks than I had in the months before using the new App Store.
The App Store team did a great job with that.
Wrapping Up
There is nothing I didn't like about the iPhone 8 or iPhone 8 Plus. It's more powerful, has better cameras, Portrait Lighting, better Portrait Mode, Wireless charging, a better display, True Tone, and iOS 11.
These are just great devices that I would not hesitate to recommend.