Apple began rolling out a new mix on Apple Music called My Chill Mix. Apple told me today that the new mix will not be available to everyone immediately, but it will show up over time.
Designed for calming music you might want to listen to during an early Sunday morning with a coffee, My Chill Mix will choose music from the genres and songs you listen to and love in Apple Music.
Despite the fact I'm a hard rock music lover, I already have a couple of acoustic playlists that I use to chill out to late at night or early in the morning. There are so many great songs in all genres that could be in a mix playlist like this, but Apple says it will stick to music you like. For instance, If you love pop music, that's what your chill mix will be made up of. Each person's mix will be different and based on listening habits.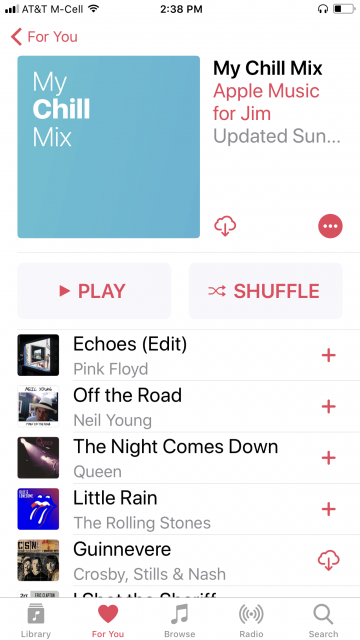 What's interesting about My Chill Mix is that it's made up of songs that I know and some I don't, but even those ones are done by artists that I like.
My first mix is made up of 25 songs from bands like The Rolling Stones, The Who, Cream, Pink Floyd, Three Dog Night, and Steve Miller. I'm listening to it as I write this and I'm really pleased with the song selection.
My Chill Mix will join My Favorites Mix and My New Music Mix at the top of Apple Music's For You section when it's available.