I'm usually pretty excited when Apple updates its music software, but I was blown away when they showed me their newest app, Music Memos and the updates they did to GarageBand on iOS.
Like many musicians, Voice Memos has become a quick and easy way for me to record my music ideas. Sometimes I just hum the idea, but most of the time I'll be playing my guitar and just reach over and tap record. If I don't record the idea then and there, it's gone forever.
I have hundreds of these little snippets on my iPhone. Sometimes I work them into full songs, sometimes I combine different ideas to make a song and sometimes they just sit there because I have no idea what they are.
Apple took the idea of Voice Memos and expanded it for musicians with a new iOS app called Music Memos.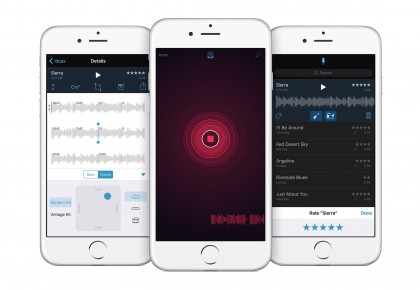 When you first launch Music Memos, you are treated with a record button in the center of the screen—it couldn't be simpler. Tap the record button and start playing your guitar (piano or other instrument) and it records. The app will show you a waveform at the bottom of the screen and you will also get feedback from the circular record button as well.
The 24-bit 44.1kHz audio file is recorded to your iPhone, but it's when you stop recording that the magic of this app happens.
Music Memos analyzes the recording for tempo and chord changes for guitar and piano. It places the chords you played right on the waveform so you can see them instantly1.
The brilliance of the app is that Apple built-in a drummer and bass into the app. Simply tap on those instruments and you can hear your song idea with a full band. Like Drummer in GarageBand or Logic, you can choose a different type of drummer, go half time, or any number of other options.
Since Music Memos analyzed the audio track you recorded, it follows along with you, even if you sped up or slowed down during the recording.
You can name the song so it's easier to find later, but you can also tag the piece of music using the location or whether it's a verse, chorus, etc. Of course, you can go back later and search for any of those tags, but Apple also included a smart slider. As you move the slider, it will show you files you worked on the most, or have tags, or that are named—basically files you showed some interest in.
There is also a place within each file to store lyrics, what tuning you used for the instrument—even custom tunings—capo position and other information.
Of course, all of the Music Memo files can be shared to social media. If you do this, the uncompressed audio files in the app are compressed so they can be easily shared. However, if you export them to GarageBand, the files are transferred into a multitrack GarageBand project, where they can be edited and adjusted as needed. The bass tracks are exported as MIDI, so they can be edited, and GarageBand recognizes the drummer track, so you can make whatever changes you want there as well.
This is just a really smart app. It answers a lot of the problems musicians have had over the years in recording ideas quickly and easily, but it took that 100 steps further.
I'm really excited about Music Memos.
[wpvideo gMOSVujg]
GarageBand
In case you missed it above, GarageBand 2.1 for iOS introduces the drummer feature found in Logic and GarageBand for Mac, and it works great. The new version also supports supports 3D Touch on iPhone 6s and iPhone 6s Plus, but those are not the biggest features of this new version. That has to go to a new feature called Live Loops.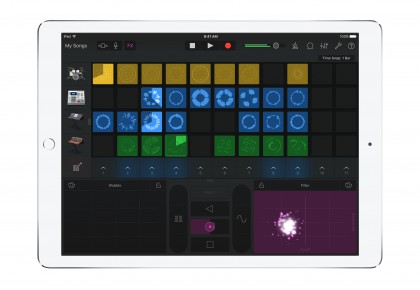 Apple says Live Loops was inspired by DJ hardware controllers and drum machines. It allows you to create music by simply tapping on cells or playing a column of cells in a grid. I played around with Live Loops and it's very intuitive, even for a novice DJ like me.
Of course, GarageBand automatically keeps everything in sync with perfect time and pitch, so it's hard to really screw something up. You can easily add loops by tapping on a cell and choosing one of the included loops. Apple added 1200 new loops to this version of GarageBand, so you'll have a lot o choices.
[wpvideo y0meJUsb]
Apple includes quite a few Live Loop templates in a variety of genres including EDM, Hip Hop, Dubstep and Rock. You can also create your own from scratch—either way, it's easy to get started.
Music Memos is available for free on the App Store and is compatible with iPhone 4s and later, and iPad 2 and later. GarageBand 2.1 for iOS is bundled free with new iOS devices 32GB and larger, is available as a free upgrade for existing users with compatible iOS 9 devices or later, and is available to everyone else for $4.99 via the App Store.
---
The app won't show you any complicated chords, but you can edit those later if you like. ↩