I've been using the iPad Pro for just over a week now and I'll tell you, I'm more impressed than what I thought I would be. The first question I set out to solve was "who is the target market for iPad Pro?" While I thought that would be a difficult question to answer, it turned out to be quite simple. More on that later.
There is no doubt iPad Pro is made for a group of customers that haven't be able to take full advantage of previous iPads before: Creatives. The combination of Apple Pencil and iPad Pro make this an incredibly advanced and powerful device.
I met with Adobe last week and got a look at a few of the new apps they built with iPad Pro in mind. The level of thought they put into these apps had me smiling while they were demoing them to me.
Let's just take a look at Adobe Photoshop Fix as an example. The app makes common touchups easy, but there's a lot going on under the hood. While on iPad Pro, the work you do seems almost too simple. However, when you export that image and open it in Photoshop on your Mac, you see all of the different layers.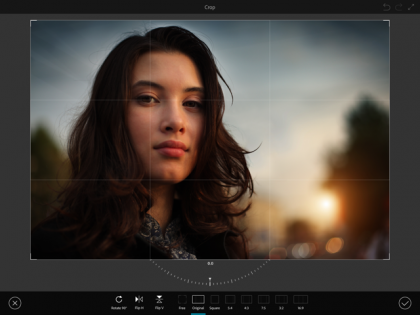 You don't see the layers on iPad Pro, but the app is keeping track of all the masking, compositing, and other changes you make.
Using Adobe Comp CC is pretty much the same great experience. You can mockup a document, using gestures to create spaces for text, images and other document elements. When you're done, you can export your work to Photoshop, Illustrator, and InDesign, so you can continue working on your Mac.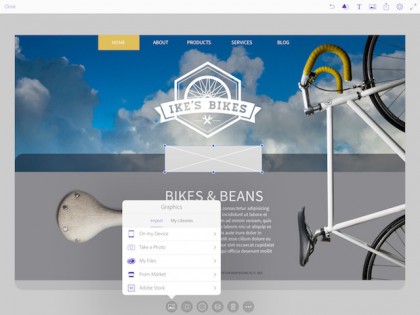 What Adobe has done is definitely amazing, but you have to look at the foundation of what they built these apps on: iPad Pro.
Apple Pencil is very thin at the tip. While other pen devices mimic the touch of a finger, Apple Pencil's tip is meant to be precise. Pencil transmits the force and pressure you use from the pencil to the screen of iPad Pro.
The iPad Pro screen is always watching what you're doing. With something like drawing on the screen, latency is a killer. If you draw a line and the screen can't keep up with what you're doing, you won't use it very long.
iPad Pro intelligently predicts where the pencil is going and how much pressure is being used. It then goes back and fills everything in to make it the precise line you wanted.
Keep in mind, this is all done so fast, you can't even see it happening. You will not draw a line and then have iPad Pro changing things while it catches up and you watch. It is truly amazing.
Using iPad Pro
Using iPad Pro is a great experience for me. It's not that it's bigger, although that helps with my older eyes, it's that it allows me to do more.
I do a lot of story research, email, Web browsing, story writing, as well as writing, composing, and recording guitar for songs. With the exception of the music, nothing I do strains the power of the iPad Pro.
When you turn iPad Pro in landscape mode, you have the equivalent of two iPad Air side-by-side. That's useful screen real estate. I can have a Web browser open researching a story and notes in the other window where I copy links, images, and text. It's just so easy.
In general, iPad is a device I use everyday. iPad Pro has increased that usage because it was more efficient for me than iPad Air or mini. I can just do more with the screen space I have, and I can see it better. I like that.
I'll be honest, I didn't use the cameras, and I can't see that I would use them a whole lot under normal usage. I'm glad they're there, but using a camera isn't a priority with iPad Pro for me.
If I did want to edit video, iPad Pro would be a perfect device to do it with. iMovie on iPad Pro supports editing 4k video and you can preview the 1080p video in full resolution. In fact, you can edit three 4k streams simultaneously—that's power.
I did use the new keyboard and I liked it more than any of the other external iPad keyboards I've used in the past. Microsoft did have a good idea with the keyboard integrated into the cover.
The tilt of the iPad Pro screen felt right when attached to the keyboard, making it easy to type on my lap or on a table. It's also not as bulky as other external keyboards, which is important for me. iPad is a portable device, so bulking it up with an external keyboard just doesn't sit well with me.
The keyboard also contains no traditional mechanism—it's molded right into the keyboard keys.
There are some nice little extras included with the keyboard too. If you press and hold the Command key on the keyboard, it will bring up a list of shortcuts you can do on the iPad using the keyboard.
These tips are contextual, meaning that they will change depending on which app you are in and the screen you are currently displaying. I thought that was very cool, and helpful.
This brings me to the one thing that drives me crazy about iPad—the volume keys.
When you hold iPad in portrait, the bottom volume key turns the volume down, as you would expect. However, when you turn iPad to landscape, the bottom key is on the top of the device and on the right—that should be the volume up key and the one of the left should be the volume down.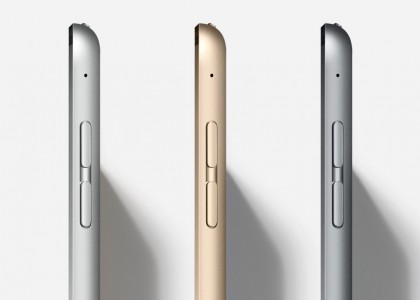 However, it doesn't work. When you press the key to turn the volume down, it goes up and vice versa. It seems silly that this is a problem.
Not just a larger iPad
Some people said iPad Pro was simply a larger iPad. That couldn't be further from the truth.
iPad Pro represents the start of something completely new for Apple and its developers. The power, versatility, and promise of iPad Pro has not been seen since the original iPad.
iPad Pro is going to open up segments of the market that never considered using an iPad before. In my opinion, this device isn't going to cannibalize existing iPad sales, but rather add to them.
Apple did an impressive job making iPad Pro a device that everyone can use—everyone. Pros and novices will both get great use from iPad Pro, but developers are going to help make this a device that can get things done like no iPad has to date.