Many people look at the "s" model of the iPhone as a less significant release than the years Apple does a full design change, but that's just not the case. This year's iPhone 6s and 6s Plus is full of new features and is probably the strongest "s" model iPhone Apple has ever released. I've been using the iPhone 6s and 6s Plus for about a week and a half, having received the devices from Apple two days after the September 9 keynote.
While the outer design of the iPhone has remained largely unchanged, the way we navigate the device, the camera, photos, LTE, Wi-Fi, the processor, Touch ID, and lots more have changed dramatically.
Let's jump in and look at one of my favorite features of the new iPhone.
3D Touch
It's not very difficult to take a look at any mobile device these days and recognize the inefficiencies in navigation. You tap your way into an app; complete your task; and tap your way back out.
There are times when you don't even need to look at something, say an email message, but we do because that's the only way to see it. 3D Touch solves that problem.
3D Touch is a pressure sensitive action that allows you to "peek" and "pop" items on your phone. For example, let's say you have a screen full of emails that you want to read. In the past, you would tap to go into the message, scan the contents, and make a decision to leave it read, change it to unread, reply, etc. Then you would move on to the next message and repeat.
With 3D Touch, I can press lightly on the message and it will open in the middle of the screen, allowing me a "peek" at what the content is. If I press a little harder, the message will "pop" open for me and I can interact with it as I normally would. If you let go of the message while it is peeking, the message goes back into the list and you can move on to the next one, without losing your place.
However, if I decide I want to deal with the message right away from the peek screen, I can just swipe up and a menu appears at the bottom of the screen allowing me to Reply, Forward, Mark, Notify Me, or Move Message. All of the things I would want to do with a message can easily be accomplished from this one screen.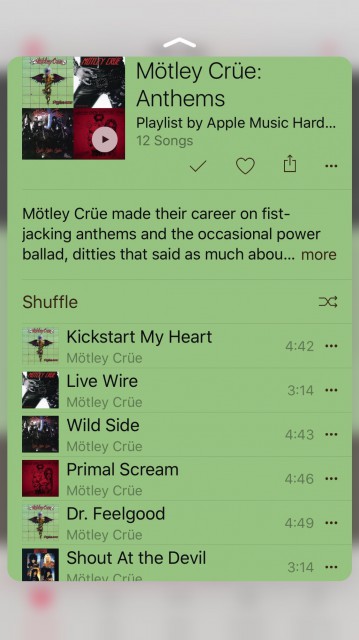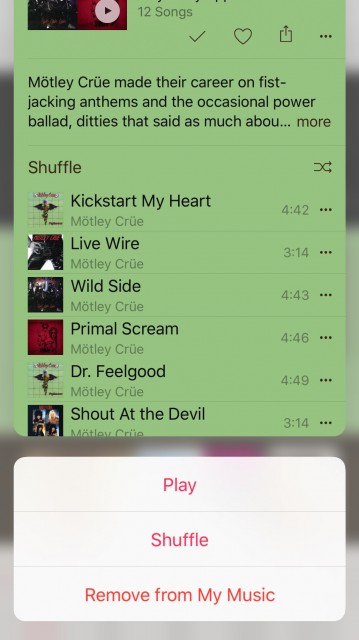 Peek and Pop work all over the place on iPhone. In Apple Music, you can use it to view albums and playlists; you can view Messages and texts; You can set calendar events, view flight info, view images and videos and all kinds of other things.
3D Touch is one of the handiest features that I've seen from Apple in a long time. It's not just that it's cool, it actually saves me time. It's a new way to navigate the iPhone that's quick, easy, and efficient.
This technology also includes Quick Actions. These are actions you can get to quickly by just pressing on an app icon. For instance, if I press on Mail, I get a menu of items including All Inboxes, VIP, Search, and New Message. Tapping one of these takes me right to that action in Mail.
A number of Apple apps have Quick Actions built-in. I found Mail, Safari, Messages, Phone, Apple Music, Calendar, Maps, Camera, Photos, Notes, App Store, FaceTime, Wallet, Find Friends, iBooks, Game Center, Contacts, and Reminders, all have some kind of working Quick Actions.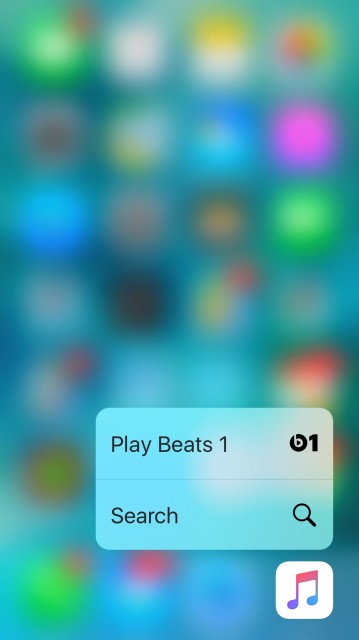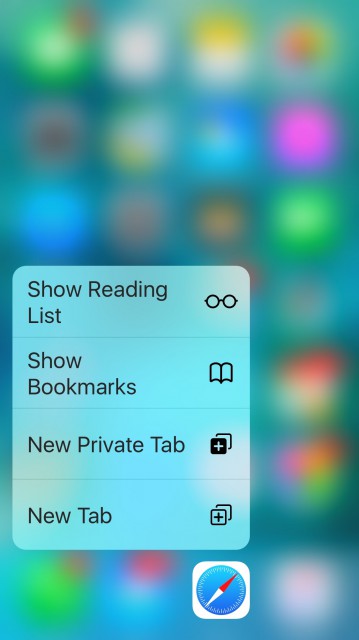 There are Apple apps that don't have Quick Actions yet. Those include, Weather, Settings, Watch, Health, Activity, Numbers, Pages, Keynote, GarageBand, Connect, iTunes U, Podcasts, Stocks, Apple Store, Remote, AirPort Utility, Find iPhone, iMovie, and Videos.
3D Touch and Quick Actions are definitely something you will have to get used to. There are things we're used to doing on the iPhone, like pressing on an app icon to delete it, that will take a bit of practice to get right. I had a difficult time tapping on an Apple Music playlist to bring up the menu—it would always go into "peek" mode for me. It took a couple of days, but I finally got my thumb to do it properly.
I expect more third-party developers to adopt Quick Actions in their apps with the next round of updates. It's very useful and something I'll be looking for from them.
12 Megapixel Camera and Live Photos
Apple's new 12-Megapixel camera is more than just a higher spec camera. Apple knows that higher megapixels doesn't necessarily mean better pictures for the average user.
In addition to increasing the megapixels of the camera, Apple also included an Apple-designed image signal processor, advanced pixel technology, and improved noise reduction. All of these things together will give you some of the best pictures that you can take on a smartphone today.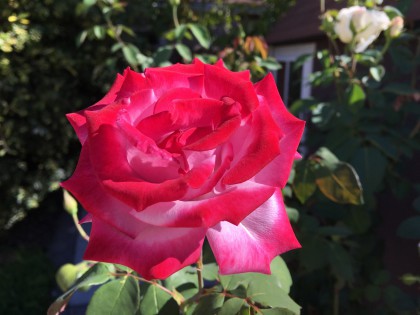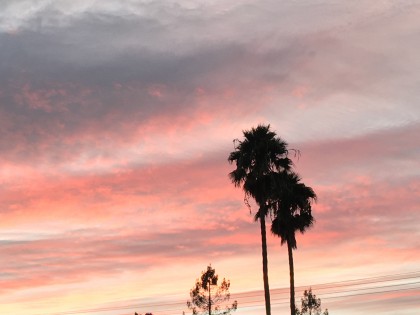 One of the things I've noticed in using the iPhone 6s and 6s Plus is that I can now take much better pictures in low-light situations. I've always found the iPhone camera to be lacking in this area, but the new one is much better.
I'm far from a professional photographer, so anything Apple can do to help me make my photos better is welcomed. What I've seen so far is impressive.
Adding to all of the technological advances is a new feature called Live Photos. With Live Photos, you take a photo like you normally would, but the camera will capture 1.5 seconds before, and 1.5 seconds after the shot. When you press on the picture in your photo app, the picture plays like a movie for those few seconds. It's really cool to see what happened directly before and after you snapped the pic.
Live Photos is something else that you'll need to get used to—if you drop the camera too quickly after taking a picture, it will capture that movement at the end of the photo. You need to keep the camera up until the "Live" indicator goes off your screen. It only takes a few times to get used to doing that and then you'll remember.
You can also turn off Live Photos if you want—it's right on the camera screen, so it's really easy to get to. Having used it for a while now, I can't imagine why you would want to though.
You can share Live Photos using iMessage, iCloud Photo Sharing, or AirDrop. The Live Photos can be viewed on OS X El Capitan, Apple Watch running watchOS 2, and of course, on the iPhone 6s and 6s Plus. You can even set a Live Photo as your wallpaper or lock screen.
Apple's front-facing FaceTime camera also supports Live Photos and will take much better selfies now. Not only is the camera better, but it now uses the Retina HD display as a flash for your FaceTime HD camera. Here's how Apple describes how this works:
When you snap a selfie, a preflash detects the lighting around you. Then a True Tone flash on the display matches the ambient light for a gorgeous shot with more true-to-life colors and more natural-looking skin tones. Retina Flash is powered by an innovative technology—a custom display chip that allows the display to flash three times brighter than usual.
In other words, amazing.
4K Videos
Of course, photos isn't the only thing that changed with the new iPhone—you can now shoot 4K video.
You can shoot at 3840 by 2160—that's four times higher than 1080p HD video. You can even zoom in while you're recording or playing back your 4K video. 4K video supports video stabilization, continuous autofocus, face detection, and you can take an 8MP still while recording.
It's not hard to see the difference when you record using 4K. This is one of those features that I didn't think I'd use a whole lot, but I definitely changed my mind.
If you plan to shoot at 4K, you have to go into Settings > Photos & Camera and turn that on. 4K is off by default. You can also now record slo-mo videos at 1080p at 120 fps—the settings for this are in the same place as the 4K settings.
Of course, if you're planning to shoot 4K video, you'll want to edit that video and Apple has that covered too. The new version of iMovie on the iPhone can edit and even share to YouTube at 4K resolution. The new iPhones can even edit two streams of 4K video to create effects like picture-in-picture and split screen.
Finally, Apple made optical image stabilization, introduced in the iPhone 6 Plus for photos, available for photos and video for that device.
Touch ID
Apple's fingerprint sensor, called Touch ID, was one of my favorite features when it was released. It allowed me to quickly unlock the iPhone using my thumb print. It's safe, secure and easy to use.
So, how do you improve on that? Make it faster.
Apple made the Touch ID sensor so fast that when you tap to wake the phone up, it has already read your fingerprint and unlocks. Really, it's that fast. In older phones, you would tap to wake the phone up, then rest your finger on the sensor—no need for that anymore.
The sensor is so fast now, I've had to change the way I touch the phone in order to see notifications. In the past, I could tap the home button, but it wouldn't unlock, allowing me to browse through the notifications on the lock screen.
With the new iPhone I have to use a different finger, because the phone will unlock right away.
That's not a complaint. It's amazing how fast the new sensor is and I'm glad it works that quickly.
Design, A9, LTE, and Wi-Fi
It seems amazing that I'm putting things like design and an upgraded processor in the "other" category of this review, but I warned you in the beginning that there was a lot of changes in the iPhone 6s and 6s Plus.
I mentioned earlier that the design of the new iPhone remained largely unchanged, but the materials did change. Apple is now using 7000 Series aluminum—the same grade used in the aerospace industry. The company also strengthened the glass using a special process to make, what it says, is the strongest smartphone glass in the industry.
The 64-bit A9 chip delivers 70 percent faster CPU performance than the A8 chip found in the iPhone 6. It also delivers 90 percent faster GPU performance. That's a staggering performance increase in just one generation.
The new iPhone supports up to 23 LTE bands, allowing better worldwide roaming. The devices also support LTE Advanced (up to 300 Mbps). With 802.11ac with MIMO can deliver speeds up to 866 Mbps. I've never had many complaints about LTE or Wi-Fi speeds, but these types of improvements are always welcome.
Bottom Line
I expected the new iPhones to deliver faster components—the "s" models usually do. What I didn't expect was the depth of everything else the iPhone delivered.
Quick Actions, 3D Touch, faster Touch ID, 4K video, better photos, Live Photos—these are all things that are going to make the iPhone 6s and 6s Plus even better for me as a user.
That's what I expect from Apple—make the software and hardware fast and easy to use. Allow me to be efficient and get my work (or play) done quickly, and with an ease of use that they've become known for.
That's what I expect and that's what Apple delivered. In the time that I've been using the new iPhones, I haven't found anything I didn't like or that didn't work as it should.
That's quite an achievement considering how much has changed.