I picked up my Apple Watch with watchOS 2 from Apple in the days following the September 9 keynote presentation in San Francisco. I hadn't installed any of the watch betas, so I was really looking forward to giving the new operating system a try.
In case you're wondering why I hadn't installed any of the watch beta updates, it's because the watch is too important to me—I didn't want to take a chance of not being able to track my fitness goals. With that said, let's start with what's new in health and fitness in watchOS 2.
Health and Fitness
Most people know just how important the health and fitness aspect of the watch is to me these days, but there is always room for improvement.
Apple is giving developers of fitness apps access to the Taptic Engine, Digital Crown, accelerometer, heart rate sensor, speaker, and microphone when making native apps for the watch. Workouts using these apps will now count towards closing the rings in Apple's Activity app. That's great news if you want to use a third-party app to track your workouts.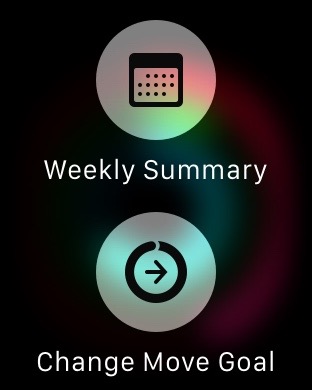 Workouts are now saved automatically on completion, which will alleviate any fear I have of accidentally hitting the wrong button after finishing a workout, and cancelling the tracking. Another great addition is having access to your weekly summary at anytime by using Force Touch in the Activity app.
While I choose not to share my workouts, there are those people who like to send this information to family or friends. Now you can in the Activity app on your iPhone. With watchOS 2 you can share achievements, workouts, and Activity rings to Messages, Mail or social networking sites.
One thing that is still missing for me involves inactive calories. Apple calculates inactive calories on the watch and it is available on the device, but they don't write that information to the Health app on the iPhone. I realize this is just a calculation, but for someone like me that's interested in any information I can get, why not give me the option to see it. If you're already calculating it, just write it to the app.
Music
The music app is infinitely better than what it was before. You can now "Love" a song, add it to your library, pause, play, skip forward and backward, and adjust the volume, all on the main music screen. If you have a custom radio station, you can also more reliably tap the star to "Play More Like This" or "Less Like This," whichever you prefer.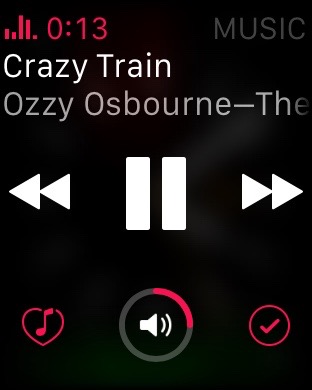 If you tap on the name of the currently playing song, it will bring up the album artwork, which is a cool thing if you like that—i do.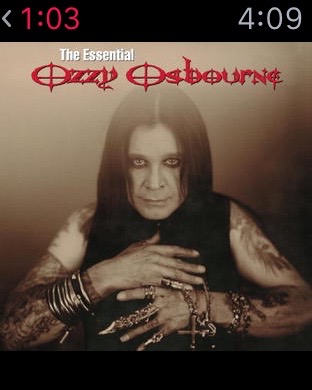 Users also now have access to Beats 1 and a Quick Play button in the Apple Music app. Swiping down gives you easy access to the source of the music, which is a handy feature if you have wireless headphones.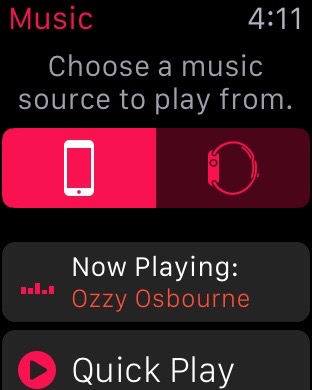 Watch Faces
One of the changes that will affect how you view the watch are Apple's new watch faces.
Typical of Apple, they made some cool faces available out of the box. You can now use a Time-Lapse, Photo, and Photo Album for you watch screen. Apple provides time-lapse videos from Hong Kong, London, Mack Lake, New York, Shanghai, and Paris.
If you would rather choose a photo, you can do that too, or even a photo album. With the album, a new picture is shown every time you lift your wrist.
I decided to just go with the normal watch screen. I use my watch for the information on the screen and found the pictures to be a little distracting. That's just a personal preference—to be honest, most people will probably choose the photos or time lapse.
The other thing available on the watch face in watchOS 2 are called Complications. This allows users to put meetings, the weather, activity rings or the latest sports scores right on the watch face. Developers will be coming out with their own Complications when the OS is released.
Siri and Mail
I'm sure one of Apple's most requested features was the ability to reply to an email message. Well, now you can.
Using Siri or an emoji, you can now easily reply to a message. You can use Force Touch, or just tap reply at the bottom of a message. Siri is so good these days, you don't really need a keyboard to respond any more. This underscores the importance and convenience of the watch for me—I don't always need to open my iPhone to quickly respond to an email, and now I don't have to.
Siri can also start a specific workout or initiate a FaceTime Audio call.
FaceTime Audio and Wi-Fi calling
Speaking of FaceTime, watchOS 2 now supports the Apple technology. You can now call and receive FaceTime Audio calls and if your carrier supports Wi-Fi calling, users can take calls without their iPhone in proximity.
I've only used my watch to make a call once in all the time I've had it, so this probably won't be all that useful for me. I have an iPhone to make calls, so I'll use that.
Time Travel
Time Travel on Apple Watch is a very simple, but cool, concept. Using the Digital Crown you can go back or forward in time to see weather forecasts, calendars, news, sports scores, and events.
Tapping on the Digital Crown brings you back to the current time.
Nightstand mode
This is very cool. When you connect Apple Watch to a charger, it automatically goes into Nightstand mode. Laying on its side, the watch displays the time in digital format, similar to how a nightstand clock would.
I didn't know how I'd feel about this, beyond being cool, but it actually works very well. I hate waking up in the middle of the night and not knowing what time it is—a simple touch on the watch and the time displays in bright green.
Perfect.
Activation Lock
The last big feature of Apple Watch is called Activation Lock. This is a security feature that requires a user to type in an Apple ID and password before it can can be unpaired or paired with another iPhone.
Great feature that will prevent someone from wiping the device and using it themselves. Hopefully, it will also act as a theft deterrent too.
Overall thoughts
It seems to me that Apple focused on ways to make Apple Watch more useful and convenient in watchOS 2. In my view, they succeeded.
I interact more with music on my watch now, I respond to emails, and I use Siri all the time to find out about sports, directions and a variety of other information.
Using the Apple Watch is supposed to be quick and convenient—with watchOS 2, it's all that and more.