Usually when I write about Yamaha at NAMM, I'll talk about new guitars or keyboards, but today the company introduced a new mixer it said was designed specifically for webcasting, podcasting, gaming and music production.
The AG03 and AG06 feature high-resolution (24-bit/192kHz) audio recording and playback, iOS compatibility and battery operation. Mixers for some people can seem complicated—and some are—but Yamaha went to great lengths to make these as simple as possible for people to use.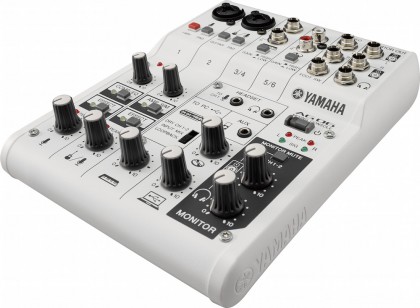 I had a chance to play around with one yesterday before it was released and it seems very hard to make a mistake setting it up. The inputs and outputs are all labelled with pictures, so you know exactly what goes where. It's really easy to use on iOS or Mac.
A key feature of the AG Series is the intuitive TO PC switch that allows users to select which inputs get routed back to a desktop or iOS device. Selecting Dry CH 1-2 allows computer or iOS recording of inputs 1 and 2, while the INPUT MIX switch routes all inputs to the computer or iOS device via USB for standard music production applications. The LOOPBACK function in the TO PC section, which is perfect for podcasters, routes all inputs to the stereo USB output, along with the USB input from the computer. This makes mixing mics and instruments with music beds, sound effects or the audio from computers and iOS devices a breeze.

Gamers are also able to adjust their sound in real-time with the included headset interface and hardware controls, removing the need to open a software control panel. The AG is the perfect tool for creating videos on sites like Twitch.tv.
Both mixers feature Yamaha D-PRE microphone preamps and onboard DSP effects, along with an AUX input for a music player and foot switch jack to control effects.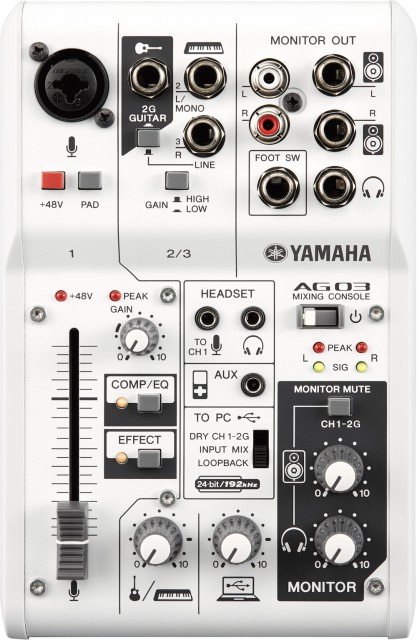 The AG06 features six channels: a main input optimized for vocals with a D-PRE studio-quality mic preamp, a second channel for another mic or a guitar and two stereo inputs for keyboards or other line level sources. The second channel features 1-TOUCH AMP SIM DSP for guitar tone at the touch of a button.
The three-channel AG03 features a single 60mm fader for the main input with D-PRE mic preamp and a Hi-Z input that allows direct connection for guitars and basses.
The Yamaha AG03 ($199) and AG06 ($269) mixers will ship in April 2015.