I picked up my new iPads after the event in Cupertino ended last Thursday where Apple introduced the new products. I've been using the new iPads just as I have used the previous generation devices, so I could get a good idea how they function under my normal working conditions.
The best feature to ever come to an iPad is Touch ID. I've spent the last year holding my finger on the iPad's Home button, waiting for it to unlock, and cursing when I realized what I was doing. It's been a long year.

Touch ID is more than a convenience feature—it actually helps the user with security too. Without Touch ID, passcodes to unlock the iPad are typically very simple, allowing people easy, quick access to the iPad. After all, if it becomes too much of a pain to just get the device open, we'll either not use it or disable security altogether. Neither one of those options really work.
Touch ID solves this problem by allowing you to add a secure password, while giving easy access to the iPad using your fingerprint. Apple is also giving developers access to Touch ID so you can unlock apps, like 1Password, with your fingerprint.
So, yes there is a measure of convenience that you can enjoy after setting up Touch ID, but you should also take the opportunity to secure your device.
One of the things I use my iPad Air 2 for is music. I plug in my guitar to the iPad and use one of the many great music apps out there for amp modeling. For me, this is a solid test of the iPad because you are processing audio in real-time—if there's any problem with the processor it should show up when trying to work with live audio.
There were no problems at all with the iPad Air 2 or the iPad mini 3.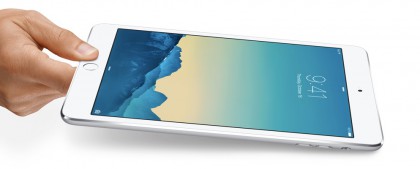 I plugged my Les Paul into a Line 6 SonicPort, which goes into the iPad via the lightning connector, and then to BIAS, the amp modeling software. So when I strum a chord on the guitar, I should hear sound immediately—any delay is called latency and really messes with your ability to play or record. I experienced no latency with either iPad in my tests.
To be honest, I'm not really surprised I didn't have any problems. When I saw the Pixelmator guys demoing Pixelmator for iPad during the event last week, I knew this was a powerful device—that was a really impressive demo that had everyone in the crowd clapping.
The iPad Air 2 is thinner than its predecessor and while it's only by a little bit, it does make a difference. The hardware design is slightly different and when combined with the thinness, the iPad Air 2 feels very comfortable to hold and use.
There is one really odd thing that I found when using the new iPads. Since I started using the iPhone 6, I got used to pressing the sleep button on the side of the device. Now, I'm doing that on the iPad, except the iPad's sleep button is still on the top—it hasn't changed. Instead of putting the iPad to sleep, I turn up the volume.
It's a small thing, I know, but it's an annoying lack of consistency across the product lines. I almost feel like the Sleep button will become my new nemesis now that the iPad has Touch ID.
Of course there is more to the new iPads than hardware—iOS 8.1 was also released bring deeper integration between OS X Yosemite and iOS. My two favorite features are Instant Hotspot and Handoff.
I had a few problems setting up Instant Hotspot, which is odd because it's not supposed to need any configuration, but yet it didn't work reliably for me. I mean that it didn't show up consistently in the "Personal Hotspot" space under the Mac's Wi-Fi menu. What's even stranger is that it acted differently uses two different Macs—on one the hotspots showed up like they used to, as a regular Wi-Fi network.
Whatever was causing the problem fixed itself because as of tonight, it's working perfectly. I could easily chalk this one up to user error, but it does bother me that I don't know why it didn't show up properly.
Handoff is a brilliant idea. It allows you to start your work on one device, and then pick it up on another just by choosing the app. All of the work magically appears on your new device and you just keep working.
Like Instant Hotspot, Handoff is a feature that I'll be using a lot.
I said on Amplified last week that if all Apple did to the iPad was add Touch ID, I'd be happy—that's what they did with the iPad mini, and to be honest, I'm happy. They did much more than that to the iPad Air 2 and it's working perfectly for me.
I will continue using both iPads because they both have a place in my lifestyle and workflow. At the end of the day, I still use the iPad Air for the larger screen, while I use the iPad mini when I go out for a coffee and need to be a bit more portable. That's not going to change any time soon.
The iPad created and made popular a market for powerful, portable tablets. The latest updates, along with iOS 8.1 and the App Store ecosystem, only solidifies Apple's position as the No. 1 tablet-maker in the world.