I had the opportunity to spend some time with the new products after the event concluded on Apple's campus this morning and I was impressed with what I saw.
The first thing I went for was the iPad Air 2. I use my current generation iPad Air quite a bit, so I was interested in how the new model felt in my hands. As you can see from the picture below, the iPad Air 2 (left) is thinner than its predecessor (right).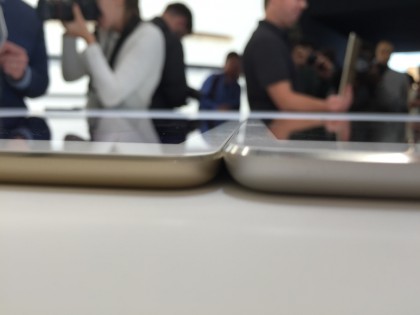 Not only is the Air 2 thinner, but it also seemed lighter to me—that's a welcome change because I travel quite a bit with the iPad, so even a tiny bit of weight makes a big difference.
The screen on the iPad Air 2 also seemed more vibrant when looking at pictures. It wasn't just that the pictures looked better, it's that everything on the screen looked brighter and more inviting.
I will tell you right now, my favorite feature on the iPad is Touch ID. I place my thumb on the Home button every time I pick up the iPad—now it will finally do something.
Of course, the iPad Air got a big performance boost with the A8X today too. It's difficult to do any testing on that in the hands-on area, but it did seem very quick. I'll need to plug my guitar into the iPad to see how it does with real-time audio, but I don't think it'll have any problems at all. The iPad Air I'm using now works flawlessly with my guitar and audio apps.
I've been a big fan of the iPad mini since it first debuted and use the current model all the time. While the new model hasn't been significantly updated, the finger print sensor alone is worth it for me.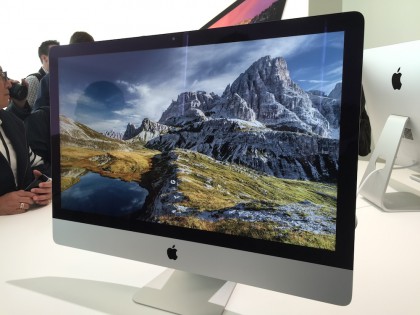 The last major announcement was the iMac with Retina 5K display. I'll be honest, I didn't think I would be that impressed with the iMac, but wow, it was stunning. I couldn't believe the display on this machine when flipping through some pictures. People are going to love this.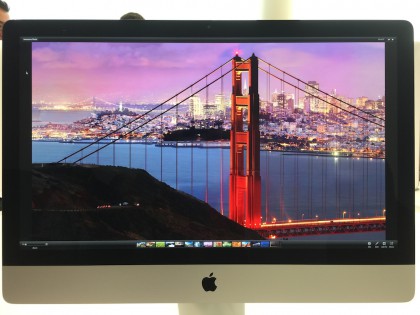 This may not have been a blockbuster event like we saw in September with the iPhone 6 and Apple Watch, but what Apple did today was significant. They updated some of their most popular products just in time for the holiday shopping season with features that its users have been asking for—it's hard to beat that.