I just walked out of Apple's keynote introduction of the iPhone 6, iPhone 6 Plus, and Apple Watch. After spending some time in the hands-on area that Apple set up for attendees, I thought I'd give you my thoughts on the products.
Having attended almost every Apple event since 1999, I'm used to the build-up the company uses to introduce its new products. This keynote was completely different. It only took Tim Cook seven minutes to introduce the new iPhone, and three of those were a video.
You could tell right away that Apple was moving towards something big, and it wasn't just the introduction of the new iPhones.
iPhone 6 and iPhone 6 Plus
I've said for a long time that a bigger iPhone for the sake of being bigger was wrong—I still maintain that opinion, even with Apple's larger iPhone 6 Plus coming in at 5.5-inches. To be clear, it is a large iPhone—probably bigger than what you think it is. 1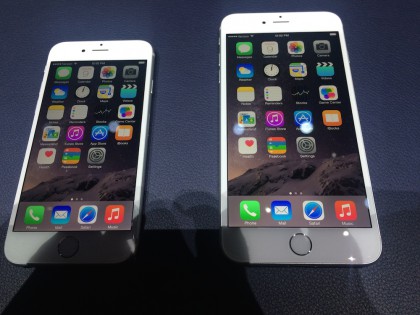 What is nice is that Apple figured out some new gestures to make the 6 Plus workable with one hand. For instance, double-tapping the Home Button will move items from the top of the screen, down to the bottom. This makes it easier to do things, like tap Safari's address bar, without stretching.
Features like this will make the iPhone 6 Plus easier to use for many people. One-handed use of an iPhone is still very important to me, and many other people I've talked to about these larger devices.
I don't know if the iPhone 6 Plus will comfortably fit in my pocket or not. With all of the security around, I thought it best not trying to stuff one in my pants pocket. I'll need to wait to try that out when the device comes out on the market.
That aside, I'm hopeful that the iPhone 6 Plus will fit into my workflow because I do like some of the things Apple did with the larger screen. Giving apps a different view in landscape mode is a great move—of course, they do the same thing with the iPad and that works great as well.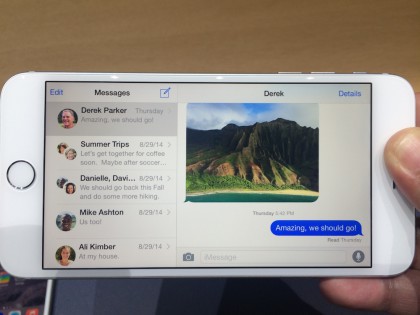 For people not interested in the larger iPhone 6 Plus, there is the iPhone 6. I have absolutely no concerns about the iPhone 6 and its larger screen. It fit comfortably in my hands and allowed for one-handed use throughout all apps I tried.
Upgrading to the iPhone 6 will be like upgrading from an iPhone 5 to an iPhone 5S—yes, it's bigger, but it's also very comfortable. It will be a very easy upgrade for most people.
That said, I'd be hard pressed to guess which model will be the top seller for Apple. The company has proven in the past that the inexpensive model isn't always the top seller. I think many people will be like me and need to see it in person and see how it feels. It's a departure for Apple, but one they could make work with iOS 8 and the special gestures incorporated into the software.
Apple Watch
I'm not quite sure what I expected the Apple Watch design to be, but in some ways it's more like a watch than I anticipated. My personal expectations aside, this is a beautiful device. What Apple did with the digital crown is just genius—allowing users to scroll and zoom and move around the interface in ways that make sense, but were completely unexpected. That's what Apple is all about—fixing problems and pain points.
I'm very impressed with the software on Apple Watch. Instead of porting the iOS interface over to the watch, Apple created a new way of navigating and interacting with a device that we're all familiar with.
The way the apps kind of float on the screen and the ability to move around easily through them is what will make the Apple Watch appeal to consumers. The customized notifications will make the watch more usable as well.
I don't think there's any doubt that Apple has three hits after today's introductions. For me, these products will come down more to personal preference than any device introduction that we've seen in the past.
---
I'm not sure why, but it was bigger than what I thought it would be. ↩