There are many products on the market, like the Apollo, that will give you studio-quality audio, but finding that same quality in a small package is a bit more difficult. With the Apollo Twin, Universal Audio hit on a great balance between power and portability.
Musicians and engineers often have to make a decision when they are working with audio on the road: Do I want quality or convenience? Obviously, taking a rack mount unit with you to a hotel or on a plane isn't practical, so, a more compact interface is used in its place. Clearly, there are sacrifices made with that decision.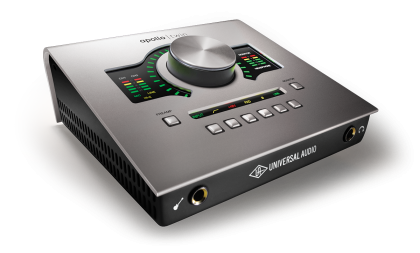 Usually, that sacrifice is quality. If you're laying down another guitar track or even doing a rough mix, you want the best quality gear you can get your hands on. In my studio, I use an Apollo. I'm familiar with how it works, what settings work in a variety of situations and how it's going to react when I track or mix. Using it is like putting on an old pair of slippers—it just feels good.
That's exactly how I felt with the Apollo Twin. The device includes the same software applications (Console and UAD Meter & Control Panel) that its big brother, Apollo does, so even that is familiar to the user right away.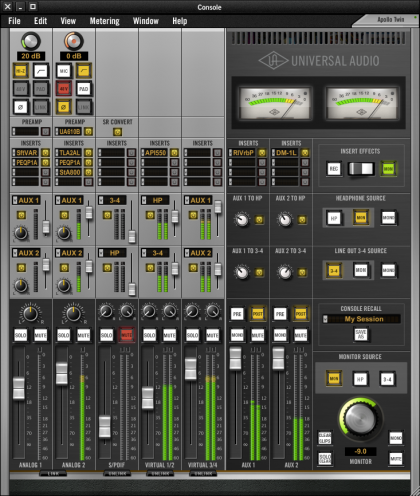 Apollo Twin includes a large knob in the center of the device that controls volume and preamp gain, if the preamp is selected. The front panel includes everything you need without even looking at the software1 Input Select, Low Cut Filter, +48, Pad, Polarity, Link. Preamp, and Monitor are all available on the front of Apollo Twin.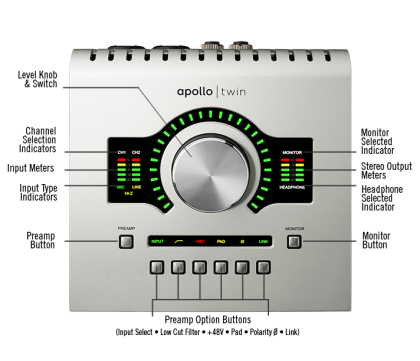 Apollo Twin is Thunderbolt-only, so you'll need a Mac to connect and use it. With the speed of that connection, even processing audio with plug-ins enabled in the Console app is done with near zero latency. I don't believe Universal Audio actually says zero latency, but that's probably because they aren't allowed by law. In every piece of audio tracking or mixing I've tried it was indistinguishable, so I'm saying zero latency.

The Apollo Twin has two high-quality Mic/Line inputs on the back, as well as a Hi-Z instrument input, and headphone jack on the front. That's more than enough to get your project going. It also has two Monitor outputs and two Line Outputs on the back. The Apollo Twin is capable of 24-bit/192 kHz audio conversion.
To get you started, Universal Audio provides a generous collection of plug-ins including amp modelers, compressors, EQs, and Reverb. The real magic of Apollo Twin for me was the inclusion of the UA 610-B Tube Preamp and EQ and UA's Unison technology.
Unison allows the user to emulate a classic analog mic preamp gain stage. Turning it on in the Console app means that everything coming through that channel is recorded as if it was going through a 610-B Tube Preamp. The difference is amazing.
I'm a huge fan of classic analog gear and the warmth it brings to my recordings. We've all tried hitting that sweet spot of digital recording and analog sound, but I haven't had anything help quite like UA's Unison technology. It's been on my tracks from the minute I started using the Apollo Twin, and it's made a difference too.
I rely on my Apollo to do all the heavy audio lifting in my studio. Now, I rely on Apollo Twin to match that quality and ease-of-use when I'm on the road. There is simply nothing better.
---
Personally, I find it handy to have all of the buttons on the hardware device. Constantly switching back and forth between the hardware and software is tiresome and needless. ↩