IK Multimedia added to its arsenal of music equipment on Thursday with the release of iLoud, a product the company bills as "the first studio-quality portable speaker designed for musicians and audiophiles." That's a lot to live up to with one product—luckily, I got one of the early units, so I had some time to try it out.
I'll be honest with you—I've tried these types of speakers before1 and haven't been very impressed. In fact, it didn't take much to make the speakers of other units distort before they reached a very loud volume. This makes them virtually useless to me.
However, that's not what happened with the iLoud.
The iLoud allows you to plug in your guitar, connect an iPhone or iPad via the headphone jack, or connect your device over Bluetooth, so it has lots of options.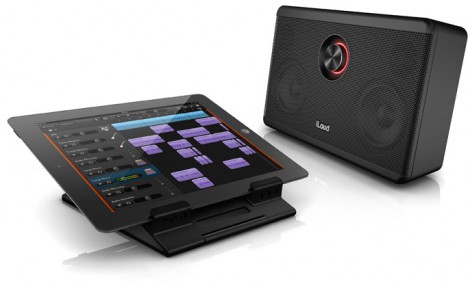 Before I even plugged my guitar into the iLoud, I connected my iPhone via Bluetooth and turned on A Pale Horse Named Death. With the bands heavy bass, I figured I could distort the speakers with the first song and be done with it. I was wrong.
When the song started playing, I sat back and smiled. The song wasn't just loud, it was clear. The bass was pumping through, heavy guitars were screaming and there was no distortion whatsoever. I was pleasantly surprised, to say the least.
I tried a number of other songs and bands, in a variety of genres, with the same results. It just sounded really good.
The other part of the iLoud that sets it apart is that you can plug your guitar into the device. IK Multimedia made this so simple, it's amazing.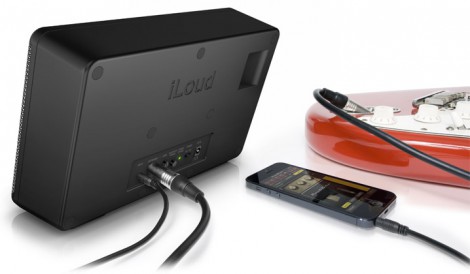 iLoud comes with an iRig circuit built-in. So, you plug your guitar into the iLoud with a 1/4-inch cable; plug the 1/8-inch cable from the iLoud to the headphone jack of your iOS device and you're done.
iLoud doesn't output your guitar to the speakers, instead it outputs it to the iOS device. With amp software, like AmpliTube or Ampkit, running on the iPhone or iPad, you get a guitar's amplified signal back through the iLoud speakers.
This too was a great sound, although you do have to play around with the amp settings and gain controls to get the sound you want. To be clear, that's no different from using any other amp software or device.
On the back panel, iLoud has an 1/8-inch jack, a 1/4-inch jack, gain control, Bluetooth pairing button and an on/off switch. The power adapter also charges the battery, which takes about 2 hours. On the front, the iLoud has one big volume knob and nothing else—just what you need.
iLoud easily fit into my gig bag and backpack. It's very easy to transport, although you will notice the extra weight.
I had no problems with the iLoud, although the 1/8-inch cable included with the unit seemed to be faulty. It didn't work at first and when I jiggled it, there was noise and static. I tried it on my iPhone 5s and iPad Air with the same result. It finally did work, but I did my best not to move it around.
Besides the small cable issue, I loved the iLoud. It delivers clear music playback and allows a simple connection of a microphone or guitar to the unit. The built-in iRig circuit is perfect for musicians and allows you to connect to iOS devices to amplify your guitar signal.
---
Admittedly, I haven't tried any with so many features. ↩