For the last week or so I've been testing out IK Multimedia's new iRig Pro, the company's audio interface that connects to your iPhone, iPad and Mac. That means that one interface can serve multiple purposes for you.
As a guitar player, I focused on how iRig Pro worked with my guitar and my Apple devices. It's important to note that the device not only handles audio, but also MIDI—and it does it quite well.
Like most of IK's product, the iRig Pro is brain-dead simple to use on your computer or mobile device. All you have to do is plug it in, connect your guitar and you're ready to go.
Because it's compatible with Apple's Lightning connector on the iPhone and iPad, iRig Pro gives you a digital connection. That is huge because it cuts down on noise that could come from devices connected to the headphone jack. In fact, when I launch AmpliTube on my iPad, I had a bluesy tone selected that I made a while ago, and I couldn't hear a sound from the guitar. No hiss or rumble at all. I strummed a chord and it came through perfectly.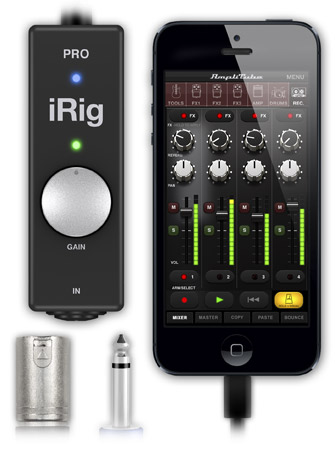 The experience on my iPhone 5s was exactly the same. I also tried it with multiple versions of AmpliTube, like the Slash version.
For most people recording at home, the single input will be enough to get everything done. The iRig Pro has a combined XLR/instrument jack, but it can only handle one or the other, not both at the same time. To me, this isn't a real negative—I'm happy that IK put the combined input in there, because a lot wouldn't.
On the Mac, I tried iRig Pro with a number of amp emulation software apps and all worked perfectly fine. Of course, being an AmpliTube user for many years, I tried that too. AmpliTube Fender is one of my all-time favorites and it sounded great.
iRig Pro features one big knob in the center of the device to control the input gain. It's easy to adjust—strum and listen for the sound you like, or watch the light until it turns green and you're all set. Depending on the guitar you're using, you'll want to adjust the input to make sure you get the best quality sound.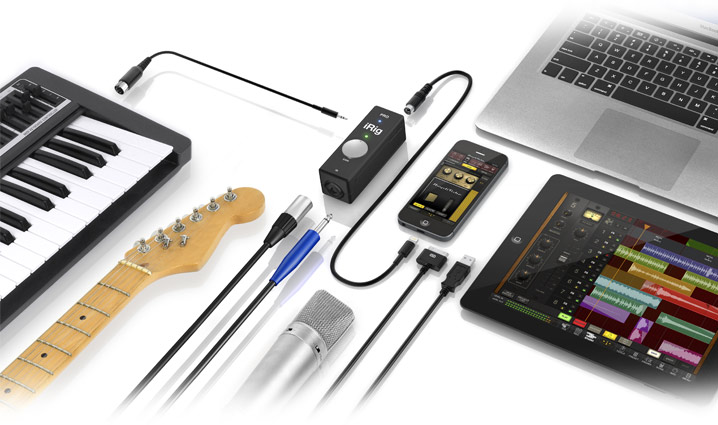 The iRig Pro comes with all of the cables you need to get connected: a Lightning cable for new iPhones and iPads; a 30-pin dock connector if you're using an older device; and a USB cable to connect to your Mac.
With the sound quality, variety of inputs and device compatibility, it's hard to go wrong with the iRig Pro for $149. I'd definitely recommend it if you're looking for a multipurpose device.