As a guitar player of 25 years, I have quite a bit of analog gear in my studio. Currently I have 23 guitars, eight amps and all kinds of pedals. As a computer nerd, I've watched the guitar amp emulation grow to impressive levels over the last decade, but never have I been more impressed with an amp plug-in than I was with the new ENGL amp bundle from Brainworx and Universal Audio.
The favorite amp in my collection is a 1988 Marshall JCM800 Head running through a 4 x12 1960A Cabinet. That amp will scream, but it can also sound gritty and bluesy and warm, and with a good hard strum of the strings, it will tear your head off. In my opinion, that's what most amp emulations are missing.
There are a few factors that go into making a good amp emulation. One of them is obviously the tone—you want a JCM800 (or in this case, an ENGL) amp emulation to sound like the original. Many software amps can sound like a Marshall, but they have the same tone no matter what you do to configure it. They are missing the key ingredient, which is the dynamics.
When I play the strings of my 800 softly, I get a totally different tone than I do when I strum them hard. If I back off the volume knob a little, the tone cleans up significantly, giving me the freedom to play many types of music without ever engaging a pedal.
One of the things I've learned over the years is to use the amp first and pedals second. I dial in the amp and get everything I can out of it—I use its tone and dynamics to build my sound. You can't always get that from software.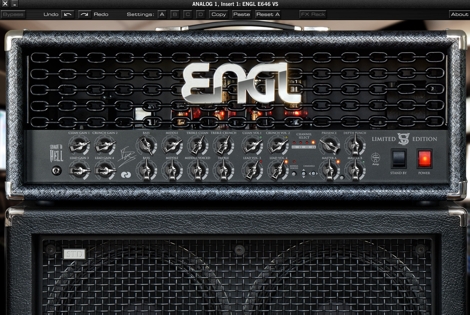 To my surprise, I did get a lot of that from the new ENGL amp plug-ins. The new amps are modeled after the ENGL E646 VS and the E765 Retro Tube. The VS has four channels—two lead, crunch and clean—that give you lots of choices when building the tracks for a song.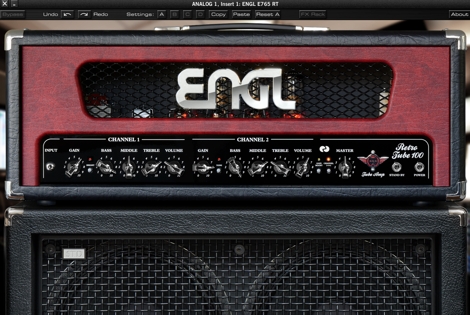 I don't have an ENGL amp—although it is on my list of amps I want—but I have played through ENGLs in the past. Being a metal guy, I love the high gain channel of the VS. It has this low-end growl that just inspires you to play. The other channels give you the versatility to play almost anything. I was actually surprised with how well it sounded on the clean channel. I really like the sound of a tasteful chorus on a clean sound and when dialed-in, this sounds heavenly.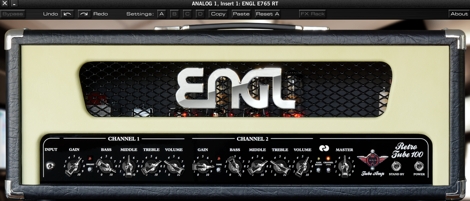 I must say, I thought the VS would be my favorite of the two plug-ins, but it wasn't. The Retro Tube is amazing. It's a two-channel amp that gives you some warm saturated tone and some nice heavy grit on the second channel. This amp plug-in is just full of tone.
I made two audio samples, one for each amp. I switched through the channels on both amps, so you can hear the difference. I purposely used the default settings and I didn't play anything specific, I just noodled around. I played slow, soft, fast and hard, so you can also hear the difference the dynamics make. Listen to the saturation on the VS—it's like you are pushing the amp a little too much and you get that wonderful warm sound out of it.
Both amps feature an effects rack that includes a Gate, simple EQ, Delay, Record Chains, Input Gain, Power Soak and the ability to bypass the pre or power amp. The Input Gain is especially nice if you have a single coil guitar and need to boost the input a bit.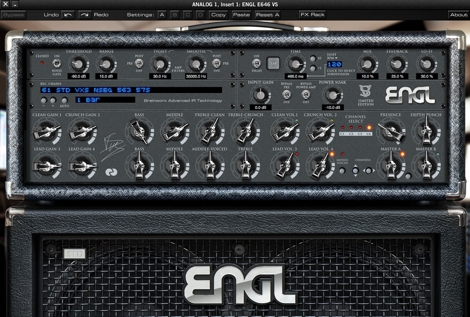 One of the real treats of the ENGL amp plug-ins is the Record Chain section. This is where Brainworx owner Dirk Ulrich recorded the ENGL amps using his Neve VXS 72 Console—one of only nine ever made. There are 64 miked and EQed cabinet presets to choose from. You can also audition the presets by manually clicking through them, or by choosing the number of bars you want each preset to be available and let the plug-in automatically switch.
Someday I will have these amps in my studio, but I'm quite happy with the work that Brainworx and Universal Audio did with these ENGL amps. The attention to detail with amp dynamics alone make these amps a must-have.