The day many professional audio engineers, musicians and music-making fans have been waiting for is here—Apple released Logic Pro X. I spent some time with the Logic Pro X team and have been using the software myself in my studio, so I'd like to give you a rundown of the important changes.
First of all, I should address the fears of many users. Rumors have circulated for a long time that Logic Pro was going to be discontinued or that it was going to be reincarnated as some sort of "GarageBand Pro." Clearly, it hasn't been discontinued, and I can tell you from my own experience, this is far from a GarageBand knockoff. This is the same professional digital audio workstation software that we've used for years, only better.
Logic Pro X still has all of the same professional-level features as its predecessor, but also adds some new high-end abilities. In addition, Apple has made the software more approachable to new users with features like Smart Controls (we'll talk about this later), without taking away any ability for pros to dig down into the plug-ins, preferences or controls.
The Interface
Apple has made some significant changes to the interface of Logic Pro X, in both form and functionality. The biggest change you will notice when opening Logic Pro X is color—It's gone from a light grey to black and darker grey. Personally, the color change suits me just fine—I found it easier to work with than the old color choices.
There are a number of other changes too. The buttons on the toolbar are more modern looking and some have a different colors when engaged, letting you know quickly if they are on or off.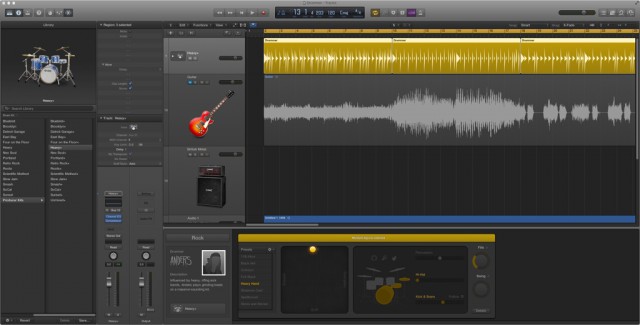 The Library has also been moved from the right side of the interface to the left and toolbars that used to be at the bottom of the screen have been integrated into the top toolbar. Both smart changes for my workflow.
Track Stacks
Logic Pro X features a new type of track called Track Stacks. There are two types of Track Stacks available to the user. The first is a simple folder stack, which many of you will already be familiar with. The folder stack groups multiple tracks together, but does not sub-mix the tracks.
The new and more powerful Track Stack is the summing stack. This is going to be used a lot. A summing track sub-mixes all of the tracks in a stack to an Aux channel. You can use this stack to create layered or split instruments—for instance, you can have multiple Guitar Amp Designer tracks in one Track Stack—and you can use multi-timbral and/or multi-out software instrument setups.
One of the great things about the summing Track Stack is that it can be saved as a patch in the Sound Library. That means you can recall the patch, and all of your settings, any time you want.
Smart Controls
I didn't know how much I would like Smart Controls because it's a simpler way to shape the sound of a track. Typically, I like to adjust the parameters individually on my plug-ins, but Smart Controls have quickly become a favorite for fast and easy adjustments.
The basis for Smart Controls is that they allow the user to manipulate multiple plug-ins and parameters with a single move. For instance, adjusting a Smart Control parameter labeled "Bass" could adjust an EQ and Compressor at the same time to give you the desired sound. That's pretty powerful.

Smart Controls are available for every patch in the Sound Library and you can create your own too. Each control can be mapped to multiple plug-ins and multiple parameters at the same time, giving you the ability to exactly control the sound. The controls can also be automated or assigned to external control surfaces.
The pro user still has access to the individual plug-ins and can make adjustments manually if you wish. In fact, if you right-click on one of the Smart Control knobs, it gives you the option to open the plug-ins associated with that control.

This is a perfect example of what I meant by Logic Pro X being approachable, but still very powerful.
Drummer
Now it's time to get into some of the fun of Logic Pro X with an addition to the app called Drummer.
Drummer is more than an instrument, it's a smart instrument that follows your direction on what types of grooves and fills to play. The app comes with 15 unique drummers, complete with their own kits and style of playing, so you'll always have something unique for your song. The drummers come in four genres: rock, alternative, songwriter and R&B.

Apple used some of the best drummers in the world to record each individual drum hit in the studio. They also hired some of the top audio engineers, producers and mixers to mix and master the library. This includes multi-Grammy award winner, Bob Clearmountain.
As you can imagine, Drummer sounds amazing.
There are two types of drum kits available from the Library: the regular kit and the Producer kit. The regular drum kit is summed to a stereo track and is very easy to use. Everything is basically done for you—you plug it in and play.
The Producer kit is more powerful and gives you much more control over the tracks. Each kit piece has its own mic and can be altered individually. Each piece can also be recorded to a separate audio track where, of course, you can add your own plug-ins.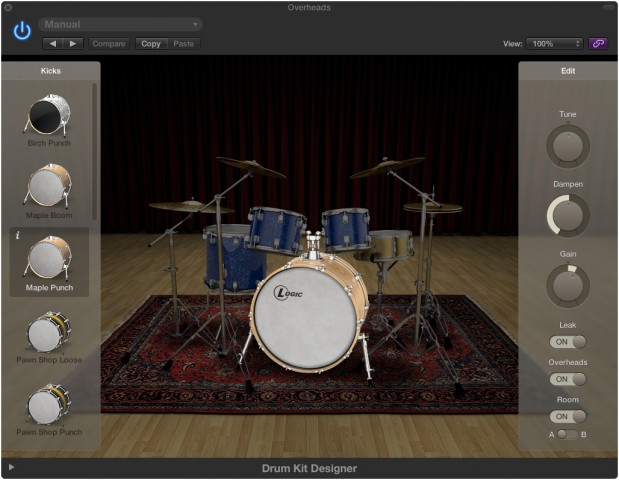 The Producer kits also give you the ability to change out kit pieces, adjust the mic bleed and other more advanced features that the regular kits don't have.
I put together a video of Drummer so you could see and hear it for yourself.
Flex Pitch
It should be no big surprise to anyone that Apple has implemented Flex Pitch into Logic Pro X. This is a new feature that allows you to analyze and adjust the pitch of individual notes in an audio file.
Flex Pitch follows Flex Time, a feature that was released with the last version of Logic Pro that allowed you to manually or automatically adjust the timing of your audio files using transient markers.

After analyzing your audio file Flex Pitch gives you an easy way to see if the notes are in pitch or not. If the box is fully colored, then you're okay, but if the box has some empty space, your note is flat or sharp. Grabbing the note and moving it will bring it into pitch.
There are also adjustment holders on each note box—one on each corner, and one on the top and bottom. Each give you different functionality to adjust the note. The six adjustment points allow you to manipulate Pitch Drift (on both sides), Fine Pitch, Formant Shift, Vibrato and Gain.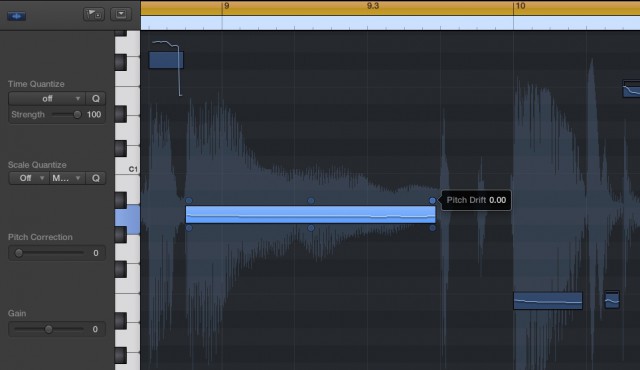 Flex Pitch also allows you to extract the MIDI from any monophonic audio and then have it played by any software or external MIDI instrument.
I used Flex Pitch on a guitar track and it worked great. I was able to adjust the pitch of one note in riff from "G" to "E" with no noticeable artifacts left behind.
Guitar, Bass and MIDI Plug-Ins
Yes, Logic Pro X now has MIDI Plug-ins. Apple included Arpeggiator and others, which is going to make a lot of musicians very happy. MIDI Plug-ins can be used with any of the instruments in Logic, any 3rd party Audio Units, or external hardware-based MIDI instruments. Up to 8 MIDI Plug-ins can be inserted on a single channel.
Bass players can also rejoice: Logic Pro X now includes Bass Amp Designer, a plug-in similar to Guitar Amp Designer, which was included in the last version of Logic Pro.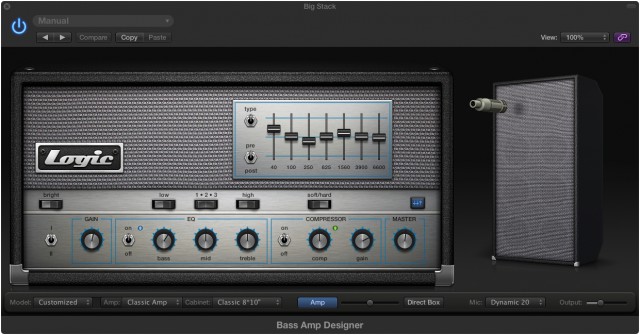 Seven new stompboxes have been added for guitar players including: Tie Die Delay (reverse delay), Tube Burner (tube style overdrive) Wham (pitch whammy pedal), Grit (classic distortion), Dr. Octave (sub octave enhancer) Flange Factory and a Graphic EQ.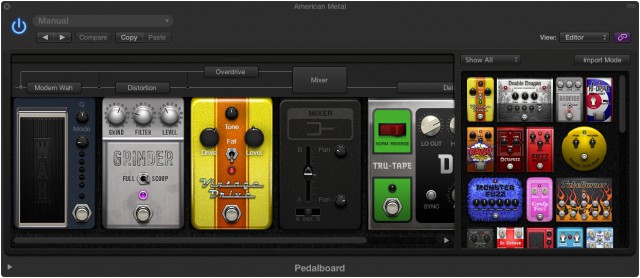 Apple is also releasing MainStage 3 ($29.99) today, which adds compatibility with Track Stacks, but I didn't get a chance to use that.
Logic Remote for iPad
Logic Pro X is now designed to work with the iPad via a free companion app called Logic Remote.
Logic Remote connects to Logic Pro X over Wi-Fi and is a powerful application for Logic users. While many iPad apps have limited functionality, Apple released its remote app with a wide range of functions.
With Logic Remote on your iPad you can record, mix and play instruments. You can navigate through Logic and make changes to your project from across the room.
This may end the days of me sitting in a chair across the room, listening to a mix and making notes about adjustments that need to be made. And then doing the same thing all over again.
Logic Remote is compatible with iPad 2 or later and iPad mini. It requires iOS 6 or later and Logic Pro X.
Other features
In addition to the features and design changes, Apple included more than 1,500 instrument and effect patches, 800 sampled instruments, 30 urban and electronic drum machines and 3600 Apple Loops in modern urban and electronic genres. Users can also download the legacy Sound Library a-la-carte if they need it.
Logic Pro X allows users to share directly to their SoundCloud account and includes support for the Media Browser, so media can be shared across applications.
In addition to Autosave functionality, Logic Pro now has the ability save "snapshots" of a project in different states as part of the project file.
Logic Pro X requires 4GB of RAM, a display with 1280 x 768 resolution or higher, OS X v10.8.4 or later and 64-bit Audio Units plug-ins. With Apple making the 64-bit transition years ago, most plug-in makers already have 64-bit versions of their plug-ins available.
Bottom line
Logic Pro X is the best music software release I've seen from Apple in a while. They added a lot of pro features, but at the same time managed to make the app more approachable—that's a difficult thing to do.
Being a guitar player, I would liked to have seen some more attention on Amp Designer—I don't use it much at all because I don't like the amps much—but I can wait for the next release for that.
Overall, Logic Pro X is a great release and for $199, you can't go wrong.