Nvidia on Monday took off the wraps of Project Shield, a new handheld gaming console with Android compatibility and support for PCs equipped with certain GTX series-equipped graphics cards.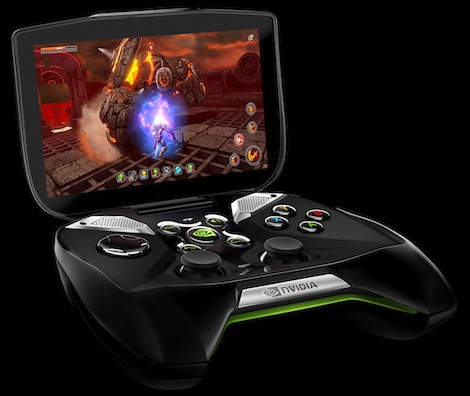 The device pairs a full-size dual thumbstick-equipped gamepad with a built-in five-inch clamshell display running at 720P resolution. Under the hood is Nvidia's Tegra 4 mobile processor. It goes a step further, though, integrating with a home PC equipped with certain Nvidia graphics cards, enabling gamers to play PC games (including many of those bought using the Steam download service) by streaming them over Wi-Fi to the device instead of being stuck to their PC.
Valve, Steam's developer, has been emphasizing more console-style capabilities in recent months with the introduction of its "Big Picture" feature, designed to enable Steam games to run more like console titles. The company is purported to be working on its own console-like device, which is expected to debut sometime this year.
Nvidia would seem to be mixing the best of two strengths with Project Shield – the already-huge and continuing to grow market for mobile games with its proven ability to appeal to hardcore PC gamers. With annual PC gaming revenue measured in tens of billions of dollars, Nvidia wants to continue to appeal to both worlds.
For now, though, Project Shield is a work in progress. No price or release date has been announced, though Nvidia told attendees of its CES event that it'll ship in 2013.