Feral Interactive announced Thursday that F1 2012, a Formula One racing game, has been released for Mac. The game costs $50 and is available for download from Feral's Web site; it's coming to the Mac App Store and other download sites as well.
F1 2012, the official game of the 2012 FIA Formula One World Championship, was originally developed for Codemasters for consoles and PC, released for those systems in September – a much smaller gap that Mac gamers are accustomed to with some Feral releases. It's also the first Formula One game to appear on the Mac in more than a decade.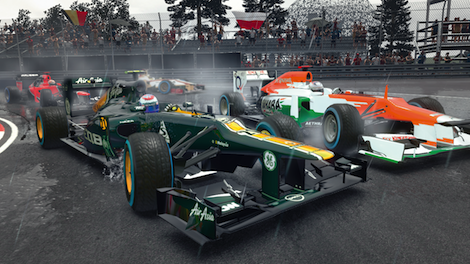 F1 2012 features all of the teams, drivers and circuits from the 2012 season, with 20 real-world tracks like Circuit de Monaco, the Circuit of the Americas in Austin, Texas and more.
Not only do you get to drive these open wheel high performance race cars, but you also can work under the hood, fine-tuning the car's handling characteristics depending on the circuit, weather and your own preferences. The game supports split-screen, online and LAN multiplayer.
System requirements call for a 2.0 GHz Intel Mac with 4GB RAM, 512MB or better graphics card and OS X 10.7.5 or later. Some graphics cards are not supported – visit Feral's Web site for details.