Back in April we brought you news about Shenandoah Studios' plan to introduce a turn-based World War II-era strategy game for the iPad. Now it's available: Battle of the Bulge is a $10 download from the app store.
Although it's totally original for the iPad, Battle of the Bulge invokes classic turn-based strategy board games like those from SPI and Avalon Hill. The company's founder, Eric Lee Smith, is an SPI alumnus. The Battle of the Bulge's designer, John Butterfield, is a member of the Board Game Design Hall of Fame with games like "RAF" and "D-Day at Omaha Beach" to his credit.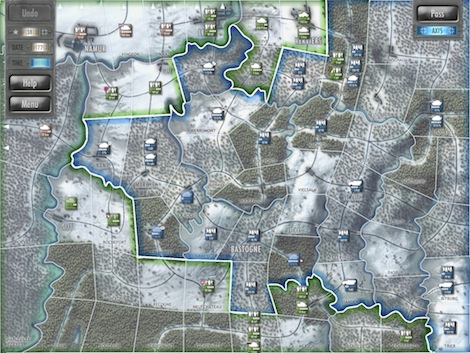 Battle of the Bulge is a simulation of the single biggest battle waged in World War II by the U.S. Army, in which Allied forces faced off against the Germans at the end of 1944.
You can square off against other opponents over Game Center, pass and play or play against the computer. The game features historical photos, film and commentary, a tutorial and quick start guide and more.
This is the first in a planned series of World War II-era themed strategy game from Shenandoah – next up is a North Africa campaign set in El Alamein.
In the spirit of full disclosure, I should say that I supported this game on Kickstarter and am very excited to be trying it out for the first time this weekend. So if you fancy yourself a strategy game enthusiast in the classic style, this one is sure to please.