Apple's long-awaited iPhone 5 made its debut on Wednesday at a special event in San Francisco. It goes on sale Friday, September 21, 2012 for $199 and $299 in 16GB and 32GB models respectively. A 64GB model is also available for $399. Preorders begin Friday, September 14th.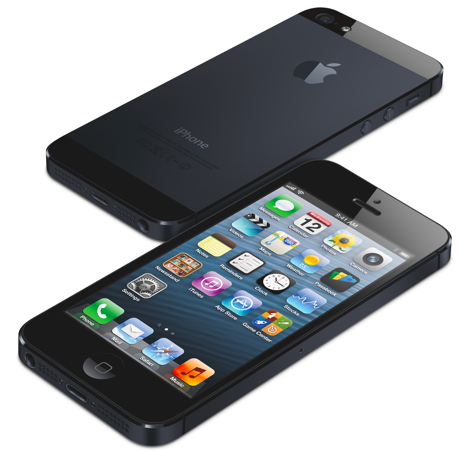 The iPhone 5 is constructed of anodized aluminum and glass inlays, and lighter and thinner than its predecessor. It measures 4.87 x 2.31 x 0.3 inches, and weighs 3.95 ounces. The iPhone 5 comes in either white/silver or black/slate finishes.
The most notable external difference is the screen size – 4 inches, versus the 3.5 inches of previous iPhone models. A Retina Display-equipped phone, it sports a native resolution of 1136 x 640 pixels at 326 pixels per inch. The additional size enables the iPhone to display six rows of icons instead of just five.
Another external change is a smaller connector. Gone is the 30-pin dock connector, a mainstay of the iPhone since its introducing in 2007 (and on the iPod for longer than that). Replacing it is a much smaller interface Apple calls "Lightning," described by Apple as "an adaptive interface that uses only the signals that each accessory requires." The interface is reversible, making it easier to connect to accessories. Apple will offer a Lightning to 30-pin adapter, to connect to legacy peripherals.
Under the hood many other improvements have been made. The device uses the new A6 processor, sporting twice the processing and graphics performance of the chip found in the iPhone 4S. It's the first iPhone to support LTE technologies on GSM and CDMA networks, and it also features 802.11n Wi-Fi support. It's compatible with Bluetooth 4.0, as well.
The built-in camera sports an 8 megapixel sensor, with a 1.2 megapixel front-facing camera for FaceTime chats.
Apple also says the iPhone 5 sports improved microphone technology, and comes with a pair of new "Earpods," Apple's new earbuds that sport a natural fit and better durability than their forebears.
Installed on the new iPhone is iOS 6, a major update to the operating system which will be available for all iOS users on September 19th.