Apple has taken the wraps off a new version of iTunes for OS X and Windows which it plans to release this October. The software will be a free download when it debuts, as with previous releases. iTunes 10.7 is the current version on Apple's Web site as this article was posted, a minor update to support the new devices.
Like before, iTunes is used to help you organize and enjoy your music, iOS apps, TV shows and movies. But over the years it's gotten encumbered as features have been added on, so Apple went back to the drawing board to come up with a dramatically simplified design. What's more, support for iCloud is now seamlessly integrated.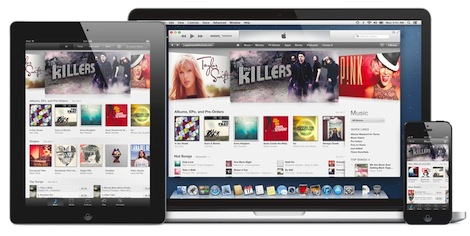 iTunes is both an application and a service – a storefront for buying music, movies, TV shows and books, and Apple has redesigned iTunes Store, App Store and iBookstore to make it easier to find and buy content than before. Featured content is showcased at the top and shelves expose music, movies and TV shows. A "preview history" shows you all the content you've already looked at, and iCloud keeps track of your preview history across different devices. You'll also be able to fire up 90-second music clips while browsing (right now, clicking away from the tracks you're previewing causes them to stop playing).
iTunes now sports a full-window interface, a new library view to make it easier to see what's in your library and click on content categories. The album view lets you see track listings for an individual album while continuing to browse your music library, searching has been reworked, and the MiniPlayer has been redesigned as well. A new feature called "Up Next" lets you queue up the next song or album you want to hear.
Better integration with iCloud makes it easier to access music you've purchased, regardless of what computer or device you've purchased it from. What's more, iCloud remembers where you left off when watching movies or TV shows, so you can pick up again without missing a beat.