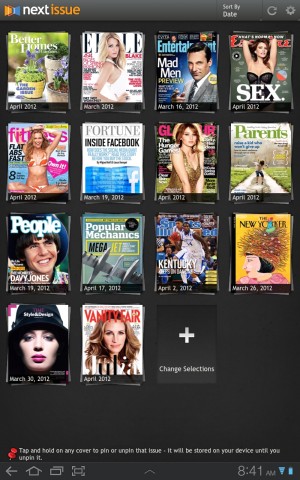 First off, full disclosure – I hate digital magazines. I love print magazines. Digital has huge file sizes, annoying download issues, widely varying user interfaces and price structures. Print is print, for better or worse.
Now that we've got my bias out of the way, I was still very impressed with the concept of digital magazines from a company called Next Issue Media.
NIM is a joint venture of five U.S.-based publishers (the service is only available in the U.S. for the time being) – Condé Nast, Hearst, Meredith, News Corp. and Time Inc. They have just announced the availability of their iPad app in the US – the Android version has been available for a few months.
The CEO of NIM is Morgan Guenther, a former president of TiVo, told VentureBeat, "We're focused on premium content," he said, "content that's not available for free on the web."
To that end, at iPad launch, NIM has 39 titles to start, "with many more expected later in the year", NIM's Chief Technology Officer, Keith Barraclough, told me in an interview. The list of titles include popular magazines such as TIME, Esquire, Sports Illustrated, Wired, Bon Appétit, Golf Digest and many more.
But even more interesting than the titles is what TIME called "a wrinkle that might be a game-changer, and is intriguing at the very least: flat-rate pricing."
There are lots of digital magazines already available in a variety of ways, some of which are included in NIM's stable. From standalone apps like Wired's to "mobile reading application" Zinio to Apple's own Newsstand. But the "all you can eat" model NIM is offering is intriguing.
NIM offers two pricing plans – "Unlimited Basic" which includes those titles that are published monthly and bi-weekly, like Car and Driver, Fortune, Vanity Fair and others. It also includes all the back issues of those same magazines – but only back to the beginning of 2012. Unlimited Basic is $9.99 per month.
"Unlimited Premium" includes all titles in the NIM catalog, including weeklies such as Entertainment Weekly, People, Sports Illustrated, The New Yorker and TIME and all their back issues to the beginning of 2012, for $14.99 per month. Plans are paid monthly via an automatic charge to a credit card and there are no annual or other prepayment plans.
NIM also offers individual magazine subscriptions from $1.99 to $9.99 per month and single magazine issues are available from $2.49 to $5.99 per issue. If you already subscribe to the paper edition of an included magazine, Barraclough told me all you have to do is enter your account information into the app and you will be credited with the digital version. Best of all, NIM is offering a 30-day free trials for all their subscription plans.
The Big Question is, will it encourage more people to go digital for their magazines?
According to AllThingsD, "Two years after the iPad launched, consumers have only shown a mild interest in tablet magazines — digital represents just 1 percent of the industry's circulation."
I'm certainly a prime example. I love paper magazines, subscribing to ten monthly and weekly editions and often buying individual issues of others like Esquire or Vanity Fair that have an interesting article or two. But I've never found digital offerings compelling enough.
I haven't yet tried the NIM app but I was assured by Barraclough the issues of user interface have been solved through the app. While the titles will retain their unique look and feel, they have been given a consistent UI through the app, eliminating one of the confusing aspects of the differing magazines.
More good news/bad news – the Next Issue Media iPad app supports all generations of the iPad. That means it will look fine on my original iPad but those of you lucky enough to have the Retina Display of the latest iPad will have to wait until "later in the year", according to CTO Barraclough, before the app is optimized for higher resolutions.
Another issue is the lack of issues. While 39 titles at launch is quite a few, they are primarily "mainstream" magazines. If your interests lie outside that range, you're out of luck. For example, my favorite hobbies – motorcycling, skiing and photography – aren't represented by a single title, even though there are dozens of magazines covering those markets. But Barraclough said this is just "version one" of the app and they are working hard to bring on many more publishers and titles – even ones not printed by the five partners in the venture.
Bottom line – is it worth it? At $120 – $180 per year, unless you're a magazine junkie, probably not. But if you are, and the titles hold even a little interest, it would be. The ability to have all your magazines on hand and to even read magazines you don't subscribe to just for an article or two, might be compelling. If you're a household of two or more magazine readers, it becomes much more of a no-brainer.
If you would like, you can to listen to the entire audio interview I did with NIM's Chief Technology Officer, Keith Barraclough.