Just in time for the start of the new baseball season, OOTP Developments has announced the release of Out of the Park Baseball 13, a new version of their popular baseball sim for Mac, Linux and Windows. The game costs $39.99.
Out of the Park Baseball is a simulation sports game that lets you manage your own baseball franchise. Featuring online and solo play, OOTP Baseball lets you set lineups and pitching rotations, determine strategy and make game-time decisions that can affect the outcome of a game. You also budget scouts, make trades, handle drafts, sign free agents, negotiate contracts and more. If you've ever dreamt of running a pro baseball team, this is the game to get.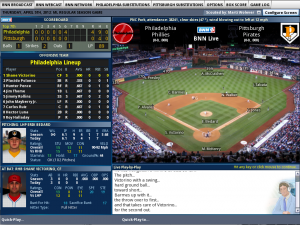 The game features real player data and team information from Major League Baseball. You can play any historical season from 1871 to present.
New features in this edition of the game include 2012 major league teams and rosters, and rule changes; minor league rosters and international leagues, including Japan's.
A new real-time simulation mode gives you a general manager's perspective on what's happening in the league, including scores of games in progress and notifications of important events. You can also experience interactive storylines. A reworked pitching system more accurately reflects pitching in the "real world," including the rotation of starters to relievers and so on. Custom playoff options, the ability to create associations with multiple leagues that share rules, agents, draft pools and playoffs, and an overhauled interface.
OOTP Baseball 2013 follows the release of iOOTP Baseball 2012, a new mobile version of the game that debuted last week. It costs $4.99.