Aspyr on Thursday announced the release of Company of Heroes Complete: Campaign Edition – a World War II-themed real time strategy game originally developed by Relic Entertainment. It costs $49.99 and is available through download services including the Mac App Store and Aspyr's GameAgent.com.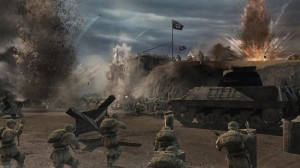 Company of Heroes Complete: Campaign Edition combines the single-player campaigns of the original game alone with two expansions, Tales of Valor and Opposing Fronts.
You lead squads of Allied soldiers into battle against Nazi Germany through the D-Day invasion of Normandy and beyond. You control three separate armies through six campaigns – a total of more than 50 hours of gameplay, according to Aspyr. A completely destructible environment means you can reshape the battlefield as you use terrain and buildings to your advantage.
System requirements call for Mac OS X 10.6.8 or 10.7.2 or later, Intel Core 2 Duo 2.4GHz or faster, 2GB RAM, ATI Radeon HD 2600 or Nvidia GeForce 8600 or better 3D graphics with 256MB VRAM.