Aspyr Media on Thursday announced the release of RAGE: Campaign Edition, a Mac version of the game released for Xbox 360, PlayStation 3 and Windows late in 2011. The game costs $39.99 and is available through the Mac App Store and other download services, including Aspyr's own GameAgent.com.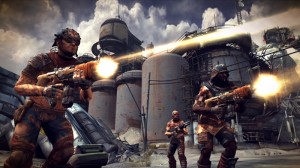 RAGE takes you to a post-apocalyptic wasteland ruled by bandit gangs and mutant hordes equipped with exotic weapons and special items. The game combines first-person action, driving and role playing game elements as you fight to survive in the deadly wastelands.
RAGE: Campaign Edition includes all of the content found in the game's full single-player campaign as well as the bonus equipment previously exclusive to the "Anarchy Edition." You also have access to the Wasteland Sewers Missions.