Apple on Tuesday updated its professional workflow application, Final Cut Pro X, adding a number of significant features. I spoke with Richard Townhill, Senior Director of Applications Marketing at Apple, to get more details on the release.
Perhaps the biggest new feature in Final Cut Pro X is the addition of Multicam editing. Typical of Apple when adding a new feature, the company didn't just think about how to add the functionality, they thought about how to do it better than before.
Shooting a scene with multiple cameras is common practice these days and Final Cut Pro's multicam feature supports mixed formats and mixed frame rates, making it easy to bring in footage from a variety of sources. Final Cut also supports up to 64 camera angles in the new version.
What's really different in Apple's implementation of multicam is how the company does its automatic syncing. Of course, you can sync camera angles by using the timecode or the less accurate method of using the time of day, but Apple has a new way of syncing camera angles — audio waveforms.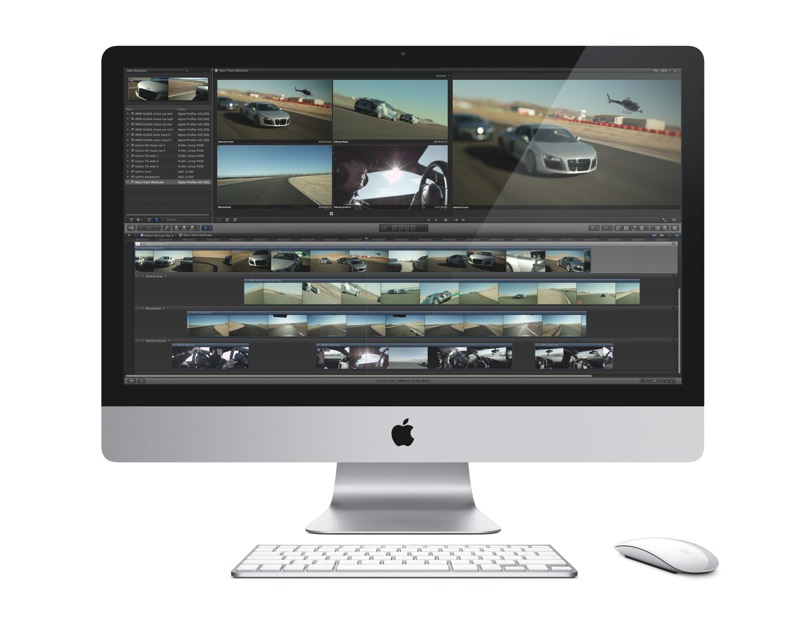 Townhill explained that with Final Cut Pro X, you can now sync scenes using the audio waveform captured with the camera. This doesn't have to be the final audio used in the scene, but it can be used for syncing purposes. Of course, manually syncing cameras is still available at any time.
The other major new feature added to Final Cut Pro X is broadcast monitoring. For now, this is being released as a beta. Townhill said that you need a PCIe card in a Mac Pro or a Thunderbolt device. Apple said in most cases broadcast monitoring will work just fine, but they are still refining the feature.
The good news is that with Thunderbolt, you will be able to take advantage of broadcast monitoring while on a shoot. In the past this feature was only available when you got back to the studio and your Mac Pro.
In addition to those major features, Final Cut Pro X also includes Advanced chroma keying with controls for color sampling, edge quality, and light wrap. XML 1.1 support has been added, allowing users to export basic primary color grades, as well as importing and exporting effect parameters and audio keyframes.
Media relinking and the ability to import and edit layered Photoshop graphics has also been added.
There is also good news from Final Cut Pro developers. Intelligent Assistance is releasing a new app today called 7toX that will allow users to import Final Cut Pro 7 projects into Final Cut Pro X. The app uses Final Cut's XML to achieve the import. The app will be on the Mac App Store and costs $9.99.
Other Final Cut developers like GenArts and Red Giant have developed motion graphics plug-ins that take advantage of the realtime preview capabilities of Final Cut Pro X.
Final Cut Pro X 10.0.3 is available from the Mac App Store and is a free download for anyone that owns Final Cut Pro X.