Feral Interactive announced Tuesday plans to publish the Macintosh version of Tropico 3: Gold Edition on Thursday, January 26, 2012. The game will be available for $34.99 and will be available for download from various sites including the Mac App Store.
Tropic 3 is a strategy game in which you build a Caribbean island government – a "banana republic," if you will. It's up to you if you rule with the iron fist of a dictator or try to create an industrial empire, commercial haven or island paradise. But you must maintain your popularity, and your people's happiness, if you want to avoid a coup that will put your head in a noose.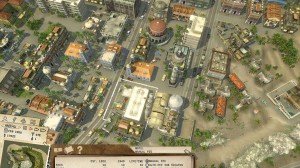 The game features 15 missions, and incorporates the "Absolute Power" expansion pack with another 10-mission campaign, additional islands and "Megalomania" edicts that change the balance of the game.
System requirements call for a 2.0 GHz Intel Mac with 2GB RAM, 256MB or better graphics and Mac OS X 10.6.8 or later. Some Intel GMA video chipsets are not supported – visit the site for complete details.