Fuse Powered Inc. and Rebellion have announced the release of Judge Dredd vs. Zombies, a new game based on the popular comic book character. It's available for the iPhone, iPod touch and iPad (it's universal) for 99 cents.
Judge Dredd is THE Law in Mega-City One and he is none too pleased when zombies invade. Help him punish these unlawful undead invaders with the "Lawgiver pistol" and a devastating arsenal of powerful weapons. Increase your "Law Meter" by slaughtering the zombie horde and earn credits to unlock new guns and upgrades.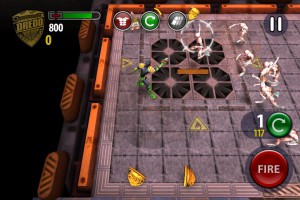 The game uses "single-stick" controls and has 30 levels across three episodes. You can upgrade Judge Dredd's weapons, get equipment upgrades with different combat advantages, and get commendations and stars as your skills improve. It also features Game Center support with 16 achievements to collect.