The Opena Case combines an iPhone 4/4S case with a bottle opener. It's the work of two evil geniuses from Australia and it'll set you back $39.95.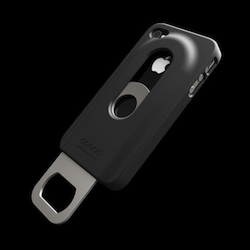 It's a hard case made from polycarbonate, with an integrated slide-out bottle opener. You can get it in either black or white to match your phone, and it comes with a one-year warranty.
Well, I think I know what I'm getting Jim for Christmas. Just the thing for those Heinekens he's never far from.