Game developer Telltale Games, makers of Jurassic Park, Sam & Max, Back to the Future and Tales of Monkey Island games, announced Wednesday that the iPad is its fastest growing platform. The company has already released 18 games and plans to offer 30 new games for iOS before the end of the year.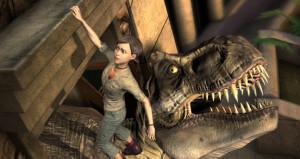 Telltale co-founder and CEO Dan Connors said in a statement that Telltale expects "that trend to continue for the foreseeable future." The iPad is ideal for the type of game that Telltale creates, he said. The company specializes in the development of "episodic" casual games. In addition to iOS, Telltale makes games for all three major consoles, PC and Macintosh.
Telltale announced plans to release Sam & Max Beyond Time & Space, the first cases of a new game series based on the popular television crime procedural Law & Order, and "a soon to be announced game series," all planned for iOS.