Apple on Tuesday introduced updated iPod touch and iPod nano models. The iPod touch now starts at $199, while the iPod nano costs $129.
The new iPod touch, which ships on October 12, 2011. It comes in 8GB, 32GB and 64GB models for $199, $299 and $399 respectively. It comes in either white or black, like the iPhone 4S.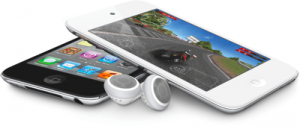 While the color is the only noteworthy external change, the iPod touch is different under the hood. It comes pre-installed with iOS 5, which Apple counts as having more than 200 improvements. iPod touch supports iMessage, new Notification Center, Game Center improvements, Wi-Fi Syncing and all the other enhancements available in iOS 5, which will also be released as a free update for all eligible users on Wednesday.
The iPod nano has new, larger icons for easier navigation. Apple has acknowledged that many users of the previous iPod nano use the device as a watch; the refreshed model has 16 new digital clock faces, including an analog design that makes it look like a Mickey or Minnie Mouse watch. The iPod nano now tracks your runs and walks without requiring a separate sensor, and comes in seven colors – silver, graphite, blue, green, orange, pink and red (part of the PRODUCT (RED) charity program).
The company also indicated, contrary to media reports, that the click-wheel iPod classic remains available. The click-wheel iPod costs $249 and comes in one model – a silver 160GB unit. The shuffle remains part of the lineup as well, available in a 2GB version in five different colors, each for $49.