Apple on Tuesday introduced the iPhone 4S. The new phone comes out on Friday, October 14, 2011 and will be available in 16GB, 32GB and 64GB models. Carrier-subsidized prices in the US are $199, $299 and $399 respectively. It comes in black or white.
While externally similar to the iPhone 4, the iPhone 4S features a dual-core A5 microprocessor inside, the same kind used in the iPad 2. This nets a 7x speed improvement to graphics and a 2x overall speed improvement to CPU-dependent tasks, according to Apple. The battery lasts for up to eight hours of talk time on a 3G network.
One of the major new enhancements capable with the iPhone 4S's improved processor performance is Siri, a built-in "intelligent assistant" that can respond to you when you ask the phone questions or give it commands, such as locating a restaurant, getting weather reports or directions, or making an appointment. It can also help send text messages, perform complex calculations and more.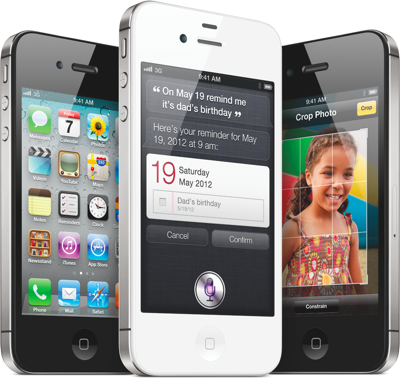 A dramatically improved camera takes 8 megapixel still images and records 1080p HD video with image stabilization. Apple says the camera features a hybrid infrared filter and an effective f/2.4 aperture, making it better suited to take pictures in low light. It also takes pictures faster, and has a shot-to-shot capability twice as fast as its predecessor.
The steel band antenna surrounding the phone uses what Apple describes as an "intelligently switching" design to send and receive data and voice communications; likely redesigned in the wake of the iPhone 4's apparent antenna-related issues. It also comes as a "world phone," able to operate on both GSM and CDMA bands. The iPhone 4S can also download data on HSDPA networks at up to 14.4 megabits per second – twice as fast as the iPhone 4, though still short of the speeds of LTE networks currently in early deployment by Verizon and AT&T.
The iPhone 4S is the first iPhone to feature iOS 5 out of the box. Apple counts over 200 improvements in iOS 5, including Notification Center and iMessage, a new integrated messaging service. iOS 5 also supports iCloud, Apple's new cloud-based services to replace most of what it has offered with MobileMe.
In related news, Apple announced that the iPhone 3GS and iPhone 4 remain available for sale after the iPhone 4S's launch. The iPhone 3GS will now become available for free with a two-year contract, while the iPhone 4 will be relegated to a single 8GB model for $99 with a two-year contract.
Apple has also announced that with the iPhone 4S's launch, the U.S. cell carrier Sprint will now carry the phone.