Google announced to users that it is implementing real-time stats as part of its free analytics offering for web site owners.
Real-time stats i something that many publishers use on a daily, hourly or even by the minute to track how stories are doing on the site. It can tell you instantly what's working and what's not and can even alert you when traffic may be getting too large for your server.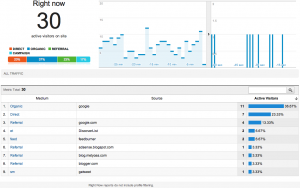 According to Google, real-time stats are only available in the new version of Analytics. For now, you can find them in the Dashboard tab, although they will be moving to the home tab next week.
The reports aren't active for everyone yet, but Google is turning them on over the coming weeks. You can also request early access from the Google Blog.